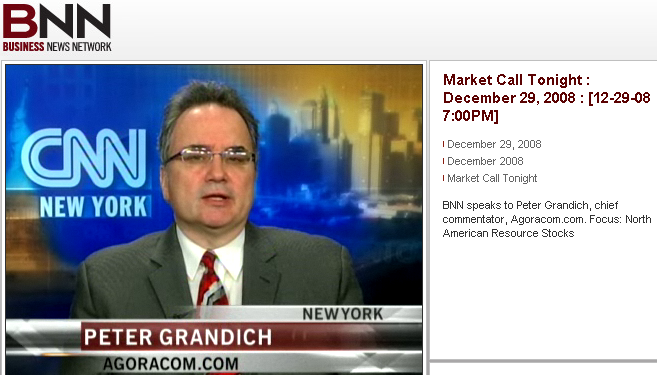 Good morning to you all.  As we approach the new year, investors are looking for trends and trading strategies for 2009.  Last night, AGORACOM Chief Commentator Peter Grandich was a guest on BNN Market Call and the 20-minute interview + phone-in session will be well worth your time.
Why?
All bias aside, the reason we acquired Grandich.com and merged Peter into AGORACOM was due to his uncanny ability to call the direction of the general markets and specific commodities.  As such, if you're looking for information pertaining to overall trends, Peter is about as good as you are going to get.
He'll be the first to admit his specific stock picks in the junior resources sector blew up on him in 2008 despite healthy gold prices – but stock picking is something best left to you once you've taken his market calls into account.
HIGHLIGHTS
Here are just a couple of highlights:
Time to get back into oil stocks as there is limited risk to the downside. On the upside, he likes $75-90 over the next 12-24 months.
He is acquiring ETF's that short US Treasury Notes.  This is the last of the bubbles and it is going to pop as interest rates head tremendously higher.
2009 will be a trading market vs a bull market
Regards,
George