[Via ChinaSecurities.com and My Colleague, Matty Hayden of HC International – whose China ideas often gets quoted in places like The Motley Fool]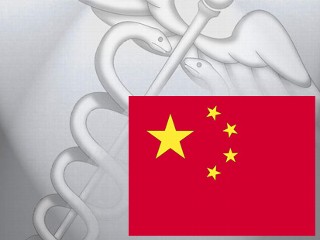 Like the U.S., China's healthcare costs have soared in recent years. Outpatient costs were 12 times higher in 2007 than in 1990 though incomes increased by only 5-7 times during the same period. Spending on healthcare amounted to about $185 billion or 5.67% of China's GDP in 2007, yet healthcare investments have clearly not kept pace with China's miraculous economic growth.
To address the imbalances, including wide problems in healthcare availability and quality between urban and rural areas, the Chinese government has initiated a $124 billion spending stimulus for 2009-2011. Some $52.2 billion will be allocated from the central government budget and is targeted principally at rural investments. This direct investment – rather than a more customary cost share with provincial governments – underscores the importance Beijing places on improving living standards and ensuring social stability in the countryside. The balance of $74.6 billion is aimed primarily at reducing urban hospital crowding and improving primary care, and will be provided by provincial and municipal sources.
The stimulus plan seeks to address five policy objectives:
1. Establish universal healthcare insurance. Target is to provide health insurance to 90 percent of the population by 2011, and to close the gap completely by 2020.
2. Build a basic medicine system. A new national Essential Drug List will be developed with widespread distribution, uniform prices and high reimbursement coverage.
3. Provide new medical institutions. Government investment will be directed toward the development of community health centers and local hospitals to ease the overcrowding in leading urban hospitals.
4. Bring equality in urban and rural areas. A clear focus on improving China's underfunded public health system in rural areas, including epidemic management and disease prevention.
5. Reform Public hospitals. With public hospitals currently the dominant channel for healthcare services, pilot reforms will include changes to hospital administration and operation. After years of consideration, reforms also will include the separation of pharmacies from hospitals, and thus solve the over-prescription of drugs by money-losing hospital entities
Importantly, China's healthcare consumers will be the chief beneficiaries of the reform program, but it is also clear that the reforms will pose opportunities for a wide range of healthcare products and service providers. Several industries and companies are poised to benefit directly from key reform measures.
The bulk of the reform program focuses on improving rural medical access and building out the public health infrastructure, so those firms that provide the infrastructure products and services for this expansion are in line to receive immediate and direct benefit from the reform program. These entities include:
ü      Traditional Chinese medicine (TCM) producers
ü      Pharmaceutical distributors
ü      Basic medical equipment and device companies
ü      Generic chemical medicine manufacturers
ü      Vaccine manufacturers
ü      Diagnostic regent makers
Companies that will benefit from China's massive investment in healthcare:
§        Tianyin Pharmaceutical Co., Inc. (TPI: NYSE Amex) – a manufacturer and supplier of modernized traditional Chinese medicine ("TCM") based in Chengdu, China.
§        American Oriental Bioengineering, Inc. (AOB: NYSE) – a pharmaceutical and Traditional Chinese Medicine company which develops, manufactures and commercializes both plant-based pharmaceutical and plant-based nutraceutical products. AOB's strategy has been to raise capital in U.S. markets and purchase SOEs at massive discounts. That strategy is paying off — overall sales grew more than 50% this past year.
§        Tongjitang Chinese Medicines  (TCM: NYSE) – a leading specialty pharmaceutical company focusing on the development, manufacturing, marketing and selling of modernized traditional Chinese medicine in China.
The Company that we think will most likely outperform its peers and would like to highlight is Tianyin Pharmaceutical (TPI: NYSE Amex). For full disclosure, TPI is currently a client of HC International, Inc. and AOB was a client during 2005-2007.
China's government recently announced the plan to increase the overall investment in the Tradition Chinese Medicine (TCM) sector and implement favorable policies to accelerate the development of new TCM drugs will bode well for TPI.
TPI, whose fiscal year ends in two weeks on June 30, announced it expects to report revenues of $42 million and net income of $7.5 million in its 2009 fiscal year. Both numbers reflect an increase of 25% over year earlier results.
Tianyin also issued guidance for further growth of 40% in fiscal 2010. The company predicted revenues will hit $59 million and net income will total $10.5 million next year. Tianyin focuses on modernized forms of traditional Chinese medications and has an extensive and diverse product portfolio.
TPI has continued to capitalizing on China's economy growth by developing an extensive portfolio and strong pipeline, enhancing sales and marketing efforts, and penetrating into new geographic markets and anticipates the new $124 billion health care reform plan will be a catalyst for further growth.
Tianyin has received SFDA approval for 10 new products during fiscal 2009, and revenues for its flagship product, Ginkgo Mihuan, increased significantly. The company attributed the rise in Ginkgo Mihuan revenues to successful tenders and an increase in the number of distributors for the product. Ginkgo Mihuan Oral Solution, which contributes about 31% of the company's revenues, is a traditional Chinese medicine that is prescribed to treat sequelas of cerebral thrombosis, coronary heart diseases and myocardial infarction.
Tianyin said future growth will result from a combination of initiatives it has already begun, including:
GMP certification for its new production facility that will increase its capacity for solid dosage by 300% and enable future growth for 20 of its products;
the new facility will initiate a wholesale component to its business that will distribute higher margin products for other pharmaceutical manufacturers through the company's existing sales force and distribution channels;
the Healthcare Reform Act is expected to increase the demand for approximately 20 of the 22 drugs Tianyin currently has listed in the reimbursement catalog;
the company will expand its targeted marketing strategy, including multi-media and television advertising, to increase brand awareness and promote higher gross-profit-margin products, such as Ginkgo Mihuan Oral Liquid and Xuelian Cangcao;
Tianyin will expand collaboration with universities and research organizations to complement internal drug development efforts; and
The company will continue to seek complementary acquisitions, mainly focused on products or distribution.
In October of 2008, the Company also authorized the repurchase of up to $3.0 million of its common stock through June 30, 2009. With $10.7 million in net cash and cash equivalents as of March 31, 2009 and positive cash flow from operation, they are adequately funded to meet all of the working capital and capital expenditure plans for 2009. In addition, in March 2009, Tianyin announced an annual cash dividend of $0.10 per common share that will be paid quarterly and this currently provides a 4% yield.
Financial Performance:
Revenue CAGR from 2006 to 2008 of 58%
Y/Y revenue growth (2007 to 2008) of 64%
Net income CAGR from 2006 to 2008 of 49%
Y/Y net income growth (2007 to 2008) of 51%
At $2.50 and assuming a 25 million diluted share count, the stock is trading at 6.2x estimated fiscal 2010 (ending June 30) earnings, with a PEG ratio of .16. Based on management guidance for revenues and net income this year of $59 million and $10.5 million, if the stock were to trade in line with industry averages of 12-15x earnings, the stock would be between $4.80 to $6.00 per share, providing over 100% upside from its current price.
HC International, Inc. is an investor relations firm. This is not an offer to sell or purchase securities and we caution you that common stocks have significant risk which can result in the loss of some or all of your principal. For a full disclaimer visit our website – www.hcinternational.net and we also strongly encourage you to read all safe harbor and risk disclosures filed with the SEC for Tianyin and the other companies mentioned in this report.