23 holes drilled in the last two years have intersected significant mineralization and dramatically increased the size of the Goldstorm deposit at Treaty Creek
Eric Sprott re-emphasized the potential of the project in a podcast where he stated that he is "hoping they can prove up a 20-million-ounce deposit"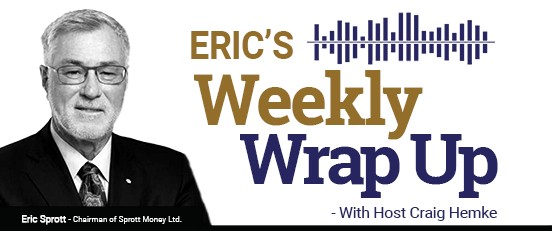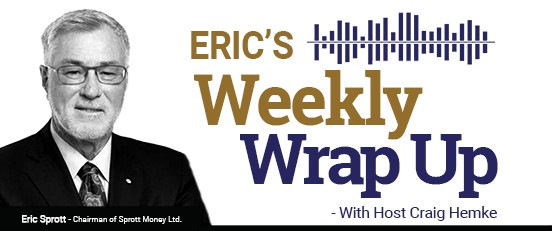 11:30 –"I still believe there's going to be huge deposit proven up there. If we get the right environment in precious metals, which it looks like we might be getting here, people are going to start looking at these things again, and it could be very, very exciting, so…and I am, kind of, hoping that they can ultimately pull up, like, a 20 million ounce deposit there. So these stocks would prove to be very, very inexpensive"
SUMMARIZING THE 2019 PROGRAM
The Company's JV partner, Tudor Gold's 2019 exploration program at the Goldstorm Zone on Treaty Creek totalled 9,781.8 meters with 14 diamond drill holes. This year's drilling program generated the best near-surface results attained to date on the project. Specifically, in addition to several hundred meters extension along strike to the northeast, the 2019 program significantly expanded the mineralized limits to the southeast, where one of the best near-surface intervals averaged 2 g/t Au over 87m, within 336 m averaging 1 g/t Au in hole GS19-52.
RESULTS OF THE FINAL 5 DRILL HOLES
Hole GS19-49 was drilled to 960.1 m, at -80° dip, on Section 111+00 NE next to the previously announced vertical hole GS19-48, which yielded 0.725 g/t Au over 838.5m, including an upper horizon that averaged 1.048 g/t gold Au over 328.5 m. Hole GS19-49 returned equally impressive results with a comparable 0.7 g/t Au over 826.5 m and the upper horizon averaging 1 g/t Au over 249 m
Along the same section, hole GS19-52 (-50° dip at 115° azimuth) was drilled much longer than expected because the Goldstorm System continues at least 700 m to the southeast ; GS19-52 averaged 1 g/t gold over 336 meters with a higher grade core of 2 g/t gold over 87 meters within the upper horizon.
Tudor Gold Exploration Manager, Ken Konkin explained: "Clearly the results of the previously reported deep vertical step-out holes demonstrate the impressive size and grade consistency of the Goldstorm system. Within the overall mineralized package of fragmental intermediate volcanic rocks there are several sub-horizontal horizons of significantly higher gold grades. The uppermost portions of the previously reported holes GS19-42, GS19-47 and GS19-48 contained respectively, 1.268 g/t gold over 252 m, 0.828 g/t gold over 301.5 m and 1.048 g/t gold over 328.5 m. We now have several other drill holes with excellent near-surface gold values to add to this list of growing intercepts. GS19-52 has returned the highest core gold grades of 2.006 g/t Au over 87 m within a 336m intercept of 1.004 g/t Au.

These intercepts are part of the uppermost portion of the Goldstorm system which we refer to as the '300 Horizon'. The '300 Horizon' remains open along strike to the northeast as well as to the southeast. In addition, the lower horizons of the Goldstorm system also remain open in all directions and the lowest horizon is open at depth."
Furthermore, Mr. Konkin added: "We are seeing consistent silver and copper mineralization associated with the deeper gold horizons such as the previously reported 151.5 m zone of 0.572 g/t gold, 8.5 g/t silver and 0.21% copper that was intercepted from 665.0 to 816.5 m in GS19-47 and a 66.0 m zone with 0.958 g/t gold, 3.9 g/t silver and 0.35% copper, whichwas intercepted from 874.5 to 940.5 m in GS19-48. Similarly, we have now seen in GS19-49, a 78 m intercept averaging 1.145 g/t gold, 11.2 g/t silver and 0.21% copper (750-828 m) and in GS19-52 an 88.5 m interval averaging 0.352 g/t gold, 9.3 g/t silver and 0.25% copper (515-603.5 m). Not only does the Goldstorm Zone remain open at depth and along strike, we are now seeing base-metal associations possibly as part of a zonation within the hydrothermal system."
The final three footwall extension holes (GS19-50, GS19-51 and GS19-53) were completed on section 110+00 NE. These were successful in extending the width of the mineralized zone to the southeast:
Hole GS19-50 returned an average of 0.602 g/t Au over 577.5 m including 0.811 g/t Au over 267.0 m in the '300 Horizon'
Hole GS19-51 returned an average of 0.721 g/t Au over 246 m in the '300 Horizon' and a lower horizon that averages 1.017 g/t Au over 40.5 m.
Hole GS19-53 returned an average of 0.984 g/t Au over 147.0 m in the '300 Horizon'
About American Creek
American Creek is a Canadian junior mineral exploration company with a strong portfolio of gold and silver properties in British Columbia.
Three of those properties are located in the prolific "Golden Triangle"; the Treaty Creek and Electrum joint venture projects with Tudor Gold/Walter Storm as well as the 100% owned past producing Dunwell Mine.
The Treaty Creek Project is a Joint Venture with Tudor Gold owning 60% and acting as operator. American Creek and Teuton Resources each have 20% interests in the project. American Creek and Teuton are both fully carried until such time as a Production Notice is issued, at which time they are required to contribute their respective 20% share of development costs. Until such time, Tudor is required to fund all exploration and development costs while both American Creek and Teuton have "free rides".
More information about the Treaty Creek Project can be found here: https://americancreek.com/index.php/projects/treaty-creek/home
A drill program is also ongoing on American Creek's 100% owned Dunwell Mine property located near Stewart. More information can be found here: https://americancreek.com/index.php/projects/dunwell-mine
The Corporation also holds the Gold Hill, Austruck-Bonanza, Ample Goldmax, Silver Side, and Glitter King properties located in other prospective areas of the province.
For further information please contact Kelvin Burton at: Phone: 403 752-4040 or Email: [email protected]. Information relating to the Corporation is available on its website at www.americancreek.com.
Hub on Agoracom
FULL DISCLOSURE: American Creek is an advertising client of AGORA Internet Relations Corp.
Tags: #BC, #BruceJack, #copper, #Discovery, #Drilling, #goldentriangle, #HighGrade, #KenKonkin, #Mine, #Ounces, #SII, #sprott, #TUD, $AMK, $SEA, gold, pretium