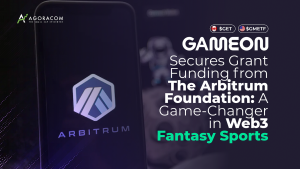 In a pivotal move poised to redefine the landscape of web3 fantasy sports, GameOn (CSE: GET) (OTCQB: GMETF) has received grant funding from The Arbitrum Foundation. This strategic development positions GameOn, a next-generation fantasy sports platform, at the forefront of blockchain adoption and marks a significant leap forward in its mission to revolutionize fan engagement.
Background and Context:
Delving into GameOn's rich history and mission, this funding from The Arbitrum Foundation aligns with the company's commitment to leveraging blockchain technology for web3 fantasy sports. GameOn has a proven track record of partnering with premier sports leagues globally, and this grant reinforces its position as an industry leader backed by world-class partners.
Key Highlights and Advantages:
The grant funding signifies strong backing from another industry giant, empowering GameOn to establish major league partnerships on the Arbitrum One network, including collaborations with LALIGA and PFL.
Arbitrum, known for its leading Layer 2 scaling solution for Ethereum, boasts the highest Total Value Locked (TVL) across all Layer 2 networks, securing approximately $7.54 billion or 54% market share.
GameOn's participation in large-scale grant initiatives, such as the recent short-term incentive program of 50 million ARB tokens, underlines its commitment to driving innovation in web3 fantasy sports.
Potential Impact and Significance:
This development holds the potential to revolutionize web3 fantasy sports, positioning GameOn as a trailblazer in blockchain adoption. The strategic partnership with The Arbitrum Foundation opens doors to new possibilities, allowing GameOn to amplify its offerings, sign major leagues, and fuel rapid growth in the dynamic landscape of fantasy sports.
Expert Opinions and Analysis:
Matt Bailey, CEO at GameOn, expresses gratitude for the strong backing from The Arbitrum Foundation, emphasizing that it provides GameOn with the firepower to propel major league partnerships, launch innovative games, and drive exponential growth. Nina Rong, Head of Ecosystem Development at Arbitrum Foundation, highlights the foundation's support for GameOn's mission to lead mass adoption in web3 through sports innovation.
Challenges and Considerations:
While the grant funding marks a significant triumph, the article will touch upon potential challenges associated with implementing blockchain technology in the fantasy sports industry. It will also shed light on GameOn's strategic plans to navigate these challenges successfully.
Conclusion:
In conclusion, GameOn's grant funding from The Arbitrum Foundation is a game-changer in the realm of web3 fantasy sports. This strategic alliance reinforces GameOn's commitment to innovation and sets the stage for a new era in fan engagement. The grant not only provides financial support but also positions GameOn at the forefront of blockchain adoption, ensuring the company's continued success in shaping the future of fantasy sports.
Call to Action:
Investors and enthusiasts keen on witnessing the evolution of web3 fantasy sports are encouraged to stay tuned for more updates from GameOn. The company's strategic partnerships and initiatives are reshaping the industry, offering exciting opportunities for those looking to be part of the next frontier in sports innovation.
Note: This article is not financial advice. Readers are encouraged to perform their own research and due diligence before making investment decisions.
View original release: https://gameon.app/news/post?postId=2QfmKqfVGQdDUR7Yg4RUd9