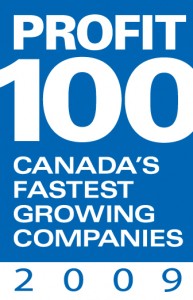 TORONTO, June 1st, 2009 – AGORACOM North America's largest online investor relations community and social networking website for serious small and micro cap retail investors, proudly announces that it has been selected by PROFIT Magazine as one of Canada's fastest growing organizations.
Measured against a running five-year revenue growth, AGORACOM ranks 57th overall in the 21st annual PROFIT 100 ranking of Canada's Fastest-Growing Companies by PROFIT Magazine using results reported for the period between 2003-2008.
"We are thrilled to have our company achieve the #57th position on the PROFIT 100, and honoured to have received this recognition in spite of a tough economy," says AGORACOM Founder George Tsiolis. "We are especially proud of the fact we are a Web 2.0 organization that has demonstrated a successful business model beyond mere advertising, Web 2.0 is not just about Facebook, YouTube and social networking sites. We are using the web to deliver real services to real customers, while generating real revenues and profits. I hope others Web entrepreneurs can follow our lead."
In 2008 over 1.3 million retail investors from more than 200 countries visited AGORACOM.com 7.9 million times to read 96 million pages of small-cap news and information.
"It was clear as day to me the investor relations model for small-cap public companies was inefficient and broken. Small public companies needed a faster, more cost-efficient way to communicate their message to current and prospective shareholders around the world. The Web was the solution," added Tsiolis. "Today, that vision has translated into millions of investors communicating with hundreds of small-cap companies via a moderated online community. I want to deeply thank our clients for believing and now benefiting from this great model. We pioneered the space, are still the leaders and now expanding into Europe, China and a mobile platform, so I look forward to being part of The PROFIT 100 for many years to come. Finally, this achievement serves as a real credit to our management team, employees and families, all of whom have sacrificed so much to make this happen."
Ranking Canada's Fastest-Growing Companies by five-year revenue growth, the PROFIT 100 profiles the country's most successful growth companies. Published in the June issue of PROFIT and online at PROFIT100.com, the PROFIT 100 is Canada's largest annual celebration of entrepreneurial achievement.
"The PROFIT 100 are an inspiration to entrepreneurs at all stages of growth, from startup to major corporation," says Ian Portsmouth, editor of PROFIT. "Their business practices and product innovations are exemplary of how businesses can succeed in uncertain times".
About AGORACOM:
AGORACOM is North America's largest online investor relations community for small-cap companies. We've partnered with the world's biggest Internet companies, including Globe Investor, Yahoo, AOL, Google and Blackberry to market our clients to a massive audience of new small-cap investors. Over 300 small-cap public companies and their CEOs have trusted AGORACOM and our online investor relations model to reach millions of current and prospective small-cap investors from around the world. No rumours, profanity, stock bashing or hyping. Our traffic ranking is above the top 0.5% of all websites around the world. Visit AGORACOM online at http://www.agoracom.com or follow us on Twitter at http://twitter.com/agoracom.
About PROFIT Magazine:
PROFIT: Your Guide to Business Success, is Canada's preeminent publication dedicated to the management issues and opportunities facing small and mid-sized businesses. For more than 25 years, Canadian entrepreneurs across a vast array of economic sectors have remained loyal to PROFIT because it's a timely and reliable source of actionable information that helps them increase their revenues, boost their profitability and get the recognition they deserve for generating positive economic and social change. Published six times a year by Rogers Publishing Ltd., PROFIT is distributed almost exclusively to the chief executives of companies with 5 to 250 employees and annual revenue of $1 million to $25 million, reaching 306,000 readers across Canada. Visit PROFIT online at http://www.PROFITmagazine.ca.
CONTACT INFORMATION
MEDIA INQUIRIES
Mitchell Fanning
Director of Marketing / Communications
CORPORATE INQUIRIES
George Tsiolis, LL.B
President
AGORACOM