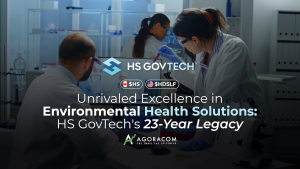 Unrivaled Excellence in Environmental Health Solutions: HS GovTech's 23-Year Legacy Amidst Pending Acquisition
In the dynamic landscape of Environmental Health (EH) technology, HS GovTech stands tall, boasting the largest user base ever witnessed in EH departments across North America. With over 5,000 regulatory professionals concurrently utilizing their highly configurable commercial-off-the-shelf (COTS) product, HS GovTech's influence spans from small two-person departments to massive 1,100+ person entities. The company takes pride in holding the most extensive portfolio of statewide EH deployments, counting the states of Virginia, Tennessee, West Virginia, Oregon, Wisconsin, among its esteemed clients.
Building Trust Across States and Counties
HS GovTech has secured its position as the preferred choice for major City and County EH Departments nationwide, earning trust from entities such as the City of San Francisco, Orange County CA, City of Dallas, Cleveland Ohio, Memphis, TN, and many more. This broad and diverse client base stems from the company's commitment to delivering best-in-class technology coupled with ongoing innovation, all spearheaded by a seasoned team dedicated to the EH sector.
HS CloudSuite™: A Comprehensive EH Solution
At the heart of HS GovTech's success lies its flagship product, HS CloudSuite™, featuring over 60 unique regulatory modules for EH. Covering everything from food and pools to lead, rabies, and onsite septic and wells, it stands as the most comprehensive solution available for environmental health agencies. Boasting an impressive RFP award rate exceeding 98%, HS GovTech has also achieved the highest customer retention rate in the past 23 years, a testament to their unwavering commitment to post-sale support and continuous innovation.
Navigating a New Horizon: Pending Acquisition by Banneker Partners
In an unexpected turn, Banneker Partners has entered into a definitive arrangement agreement to acquire HS GovTech Solutions Inc., an industry-leading Software as a Service company serving the state, provincial, and local government market across the United States and Canada. This strategic move promises to usher in new dimensions of growth and innovation, shaping the EH technology landscape in unprecedented ways.
In an industry where passion meets public health mission, HS GovTech's 90+ member strong team remains steadfast, embodying a legacy built on innovation, excellence, and an unyielding dedication to serving their partner EH agencies. With 23 years of industry leadership, HS GovTech continues to redefine the standards of Environmental Health solutions, setting the stage for a future of unparalleled success and impact.
YOUR NEXT STEPS
Visit $HS HUB On AGORACOM: https://agoracom.com/ir/HSGovTechSolutionsInc/profile
Visit $HS 5 Minute Research Profile On AGORACOM: https://agoracom.com/ir/HSGovTechSolutionsInc/profile
Visit $HS Official Verified Discussion Forum On AGORACOM:
https://agoracom.com/ir/HSGovTechSolutionsInc/forums/discussion
Watch $HS Videos On AGORACOM YouTube Channel:
DISCLAIMER AND DISCLOSURE
This record is published on behalf of the featured company or companies mentioned (Collectively "Clients"), which are paid clients of Agora Internet Relations Corp or AGORACOM Investor Relations Corp. (Collectively "AGORACOM")
AGORACOM.com is a platform. AGORACOM is an online marketing agency that is compensated by public companies to provide online marketing, branding and awareness through Advertising in the form of content on AGORACOM.com, its related websites (smallcapepicenter.com; smallcappodcast.com; smallcapagora.com) and all of their social media sites (Collectively "AGORACOM Network") .  As such please assume any of the companies mentioned above have paid for the creation, publication and dissemination of this article / post.
You understand that AGORACOM receives either monetary or securities compensation for our services, including creating, publishing and distributing content on behalf of Clients, which includes but is not limited to articles, press releases, videos, interview transcripts, industry bulletins, reports, GIFs, JPEGs, (Collectively "Records") and other records by or on behalf of clients. Although AGORACOM compensation is not tied to the sale or appreciation of any securities, we stand to benefit from any volume or stock appreciation of our Clients.  In exchange for publishing services rendered by AGORACOM on behalf of Clients, AGORACOM receives annual cash and/or securities compensation of typically up to $125,000.
Facts relied upon by AGORACOM are generally provided by clients or gathered by AGORACOM from other public sources including press releases, SEDAR and/or EDGAR filings, website, powerpoint presentations.  These facts may be in error and if so, Records created by AGORACOM may be materially different. In our video interviews or video content, opinions are those of our guests or interviewees and do not necessarily reflect the opinion of AGORACOM.