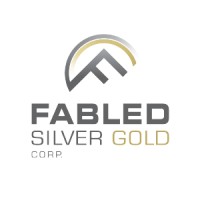 Fabled Silver Gold (FCO TSXV) ( FBSGF: OTC ) controls 100% of the Santa Maria mine gold and silver property in Mexico.
It is a high grade silver gold property that is situated right in the middle of the Mexican Epithermal silver gold belt that has reportedly produced more silver than any other equivalent area in the entire planet.
To say it's a mining friendly jurisdiction is an understatement.
Multiple major operators are in the vicinity and Santa Maria already has a silver equivalent 43-101 of 3.2m ounces, but is adding to that not only in tonnage, but in grade. High grade; and that only improves a future 43-101.
High grade mines pay back Capital costs faster, making them economic and profitable.
Check out these intercepts from the last 4 press releases that include not only high grade silver but a new gold discovery as well:
Aug 17: New Gold System, Hits Lower Feeder, which Returns 580.01 g/t Silver Eq, PLUS 19.90% Lead, 5.18% Zinc and 1.29% Copper
Aug 23rd: Intercepts Gold Bearing Sheeted Vein Structure Over A True Width of 150 Meters
Sept 1st: New High Grade Vein Breccia Outside Santa Maria Structure Boundaries, with Grades High As 1,072.73 g/t Ag Eq and..
Sept: 8th: Fabled Hits Supergene Quartz Breccia Over 1.35 Meters Grading 689.56 g/t Ag Eq
Fabled is intent on proving Santa Maria is bigger and of potentially higher grade than the market understands, and is well on its way. Grade is king an the mines with the best grade get developed first.
Santa Maria is already a proven past producer, the development progress made by Fabled is only increasing the potential re-development, but with potential better economics. Sit back and enjoy as Peter Hawley President & CEO explains the importance of how high grade intercepts improve a mines chance of being developed.