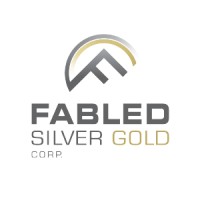 Fabled Silver Gold (TSXV:FCO ) (OTCQB: FBSGF) controls 100% of the Santa Maria mine gold and silver property in Mexico. It is a high grade silver gold property that is situated right in the middle of the Mexican Epithermal silver gold belt that has reportedly produced more silver than any other equivalent area in the entire planet.

To say it's a mining friendly jurisdiction is an understatement.

Multiple major operators are in the vicinity and it's already got a silver equivalent 43-101 of 3.2m ounces, but is looking to add to that significantly with recent intercepts of 2269 g/t silver.

That is not a typo, in other words it is also 2.269 kilos AgEq or 72 troy ounce. Just recently, Fabled encountered a new, previously unknown gold zone with the discovery of a high grade gold system with values up 10.85 g/t Au within 30.7m grading 161.09 Ag Eq, and the latest assays show 22 g/t gold in a discovery that increases the mineralization beyond known areas, and is open in all directions.   Fabled is moving from high grade silver into a more gold rich environment that includes silver

This quote from Peter J. Hawley, CEO and President describes the discovery:

……" 'As a result of discovering this new gold domain system, and ongoing interpretation of structural controls, assays results to date, and visual examination of recently drilled holes we have immediately expanded the present drilling by 5,000 meters, to a total of 14,200 meters. This will ensure that we have significant meterage to properly evaluate this gold discovery.'…….." we continue to define a new, never discovered high grade gold mineral domain system, with silver credits, over consistent widths in an area never explored, and which remains open to the west and at depth, plunging 45 degrees to the west and open in all directions for expansion.

Fabled is intent on proving Santa Maria is bigger and of potentially higher grade than the market understands and is well on its way as the deposit appears to be developing at depth into a dominant high grade gold system.

Sit back and enjoy as Peter Hawley President & CEO explains the importance of increasing the drill program beyond 14,000m and how expanding exploration will continue to yield discoveries.
Tags: Discovery, gold, Mexico, mining, Pennystocks, silver, smallcap