Gold approached 1500 Three times in the overnight session
Asian demand tends to be Physical whereas COMEX is a leveraged derivative market
Asian Demand could be an unexpected driver and catalyst for transitioning into recognized Bull Market
Some caution is warranted as pullbacks are required to help solidify price points
COMEX could be relegated as Asia evolves to settle Gold price
Emergence of Junior Financing will be further bull confirmation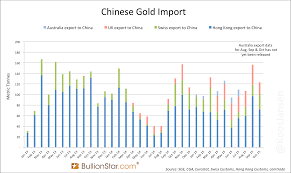 ———————

American Creek Resources (TSX-V: AMK)
American Creek owns a 20% Carried Interest to Production at the Treaty Creek Project in the Golden Triangle. 2019's first hole averaged 0.683 g/t Au over 780m in a vertical intercept. The Treaty Creek property is located in the same hydrothermal system as Pretivm and Seabridge's KSM deposits. Eric Sprott recently made a strategic 1$M investment in AMK
———————

Lead by Shawn Ryan and Roger Moss, LAB has 2 district scale Gold projects in Labrador that have never seen any modern exploration techniques. Ashuanipi and Hopedale are being systematically explored for gold potential utilizing the same techniques that created the White Gold discoveries. At Ashuanipi , a 15km long by 2 to 6 km wide north-south trend exists and a second 14 km long by 2 to 4 km wide east-west trend exists. At Hopedale, 2019 exploration has discovered two new mineralized showings.First showing extends potential strike length by approximately 500 metres along strike of the Thurber Dog gold occurrence; Second showing was discovered in the Misery North area
———————
GGX gold has discovered high grade gold silver and tellurium in the Greenwood-Republic mining camp, British Columbia. The current 2019 drill program follows up on 2018 intercept of high grade gold-silver (129 g/t gold and 1,154 g/t silver over 7.28 meter) from the near surface COD vein which is projected to be 1.5 kms in length. In addition tellurium grades were announced with "up to 3,860 g/t tellurium", including "823 g/t tellurium over 7.28-meter core length" and "640 g/t tellurium over 6.90-meter core length. 2019 drilling on COD North is currently underway.
———————
Great Atlantic is situated between Marathon Gold and Sokoman in Canada's newest emerging gold district. The Company reported a NI 43-101mineral resource estimate for the JMZ in late 2018 on Golden Promise and 2019 is focused on prospecting and geochemical sampling at high priority targets within the property. Planned 24 hole program in the northern half of the property at the gold-bearing Jaclyn Zone, specifically at the Jaclyn Main Zone (JMZ) and Jaclyn North Zone (JNZ).
———————
FULL DISCLOSURE: All companies listed above are advertising clients of AGORA Internet Relations Corp.