US $ Gold price touched a 5-year peak at $1400 as the US Fed signalled a rate cut, pressuring U.S. Treasury yields and the dollar.
This is the highest gold has been since March 17, 2014 at $1,386.38
Continued Central Bank accumulation of physical gold represents fundamental floor for market as a weakening US dollar accelerates Central Bank demand. Purchases rose 130% in the 4th quarter, and 2018 purchases came in at 650 tons
Trade wars ( China ) and Geopolitical conflicts ( Iran )
Dearth of exploration discovery leads to future supply deficits
Technical factors support higher long term gold prices and renewal of bull market
Higher prices make marginal projects economic
Exploration becomes a renewed focus to supply future demand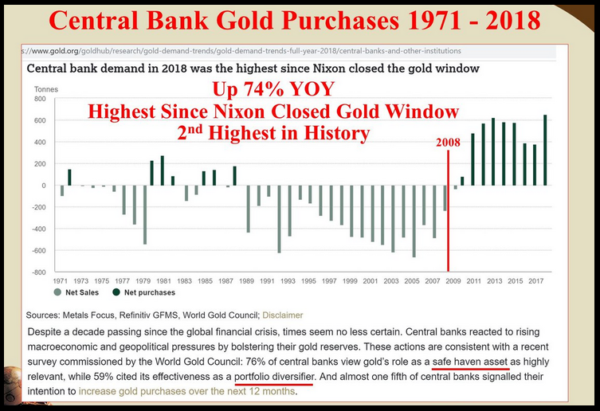 Joint Venture with Tudor Gold and a 20% FULLY CARRIED INTEREST until a production notice is given. The last hole drilled intersected 563.8m of 0.98 g/t gold and remains open. The 2019 program is designed to drill well over one billion tonnes of rock and produce a multi-million-oz gold deposit incorporating an open pit design and with higher gold grades and remarkably better logistics than Seabridge's adjoining KSM. Click here for the Treaty Creek JV Highlights
———————
Advance Gold is focused on its 100% interest in the Tabasquena Silver Mine in Zacatecas, Mexico. Drilling in the first 3 phases identified a cluster of 30 mineralized epithermal veins over an area from east to west of approximately 300 metres, and north to south 400 metres, and 300 metres of depth. Advance plans to focus deeper to find the boiling zone of the system and potentially economic mineralization. AAX recently created a 3D model of the vein Tabasquena system.
———————
GGX gold has discovered high grade gold silver and tellurium in the Greenwood-Republic mining camp, British Columbia. The current 2019 drill program follows up on 2018 intercept of high grade gold-silver (129 g/t gold and 1,154 g/t silver over 7.28 meter) from the near surface COD vein which is projected to be 1.5 kms in length. In addition tellurium grades were announced with "up to 3,860 g/t tellurium", including "823 g/t tellurium over 7.28-meter core length" and "640 g/t tellurium over 6.90-meter core length. 2019 drilling on COD North is currently underway.
———————
Great Atlantic is situated between Marathon Gold and Sokoman in Canada's newest emerging gold district. The Company reported a NI 43-101mineral resource estimate for the JMZ in late 2018 on Golden Promise and 2019 is focussed on prospecting and geochemical sampling at high priority targets within the property. Planned 24 hole program in the northern half of the property at the gold-bearing Jaclyn Zone, specifically at the Jaclyn Main Zone (JMZ) and Jaclyn North Zone (JNZ).
———————
(TSX-V: LAB)
Lead by Shawn Ryan and Roger Moss, LAB has 2 district scale Greenfield Gold projects in Labrador that have never seen any modern exploration techniques. Ashuanipi and Hopedale are being systematically explored for gold potential following the same techniques that created the White Gold discoveries. At Ashuanipi , a 15km long by 2 to 6 km wide north-south trend exists and a second 14 km long by 2 to 4 km wide east-west trend are the focus of 2019 exploration.
——————————————————————————————————————-
FULL DISCLOSURE: All companies listed above are advertising clients of AGORA Internet Relations Corp.
Tags: #1400Gold, #AAX, #BCGold, #Bullion, #Currency, #Discovery, #Drilling, #goldentriangle, #GoldMarket, #GR, #LAB, #USDollar, $AMK, $GGX, gold