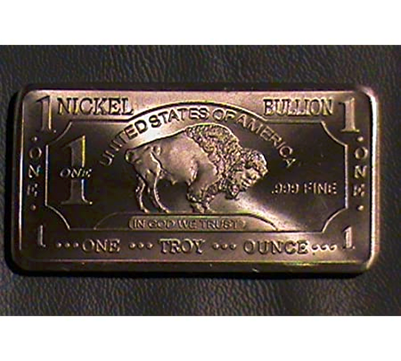 Tartisan Nickel (CSE:TN) ( OTC PINK:TTSRF) isn't like any other Junior Metals Exploration Company. They own several high quality positions in multiple junior mining companies that were placed years ago, most notably Eloro Resources, whose Bolivian Tin Porphyry Deposit is quickly developing into a world class asset.
A similar mindset came into play when Tartisan purchased the Kenbridge Nickel Deposit. It was before the current battery metals boon, and it came with tremendous foresight of future value based off a tangible asset. The Kenbridge deposit is an asset that any exploration peer would love to have to develop their company around, not only because of the tremendous value in place through infrastructure, known mineralization and future discovery/expansion potential, but because it is considered a "Class One Nickel", which is the main driver of the Battery metals Boom.
EV batteries require premium materials such as nickel sulfide, for which production levels remain low. Nickel sulfate powder—produced from nickel sulfide ore—is a critical ingredient in the cathode formulation for lithium-ion batteries, and analysts expect to see a boom in demand as global automakers transition away from gas engines and into producing EVs. It is this demand that supports Tartisans intention to further de-risk Kenbridge through an updated PEA and exploration drilling to potentially discover new "Class1 " nickel deposits
Why Tartisan Owns A World Class Nickel Project
The prior owner of the Kenbridge asset never fully realized its potential and a disinterested market discounted nickel until it fell below a value threshold. This is where a smart, forward thinking operator recognized not only its present value to the market, but its future potential as well. Enter Tartisan Nickel
The Kenbridge Deposit is Underexplored & Shows Considerable Exploration Promise
Class One Sulphide + Kenbride + Potential New Discovery KN1 & KN2
The Kenbridge deposit has Total Measured & Indicated Mineral Resources 7.47 Mt at 0.6% Ni and 0.32% Cu for a total of 95 Mlb of contained nickel. An additional 0.99 Mt at 1.0% Ni and 0.62% Cu (22 Mlb contained nickel) were calculated as Inferred Mineral Resources.
Kenbridge has an existing shaft to a depth of 2,042 ft (622 m), with level stations at 150 ft. (45 m) intervals below the shaft collar and two levels developed at 350 ft (107 m) and 500 ft (152 m) below the shaft collar.
Historical drill hole KB07-180 located on the north side of the Kenbridge Deposit intersected 2.95% Ni over 21.5 meters and the deepest hole (end of hole K2010 = 880 m below surface) intersected mineralization grading 4.25% nickel and 1.38% copper over 10.7 ft (3.3 m), indicating that the Deposit remains open at depth.
Why is this important?
It is very clear the deposit has much more to offer than its historical understanding.
Tartisan recently performed a surface Time Domain Electromagnetic ("TDEM") survey at Kenbridge North, 2.5km to the north of the Kenbridge Deposit, as well as borehole geophysics at the known Kenbridge Deposit. The Kenbridge North target is interpreted to represent similar rock types that host the Kenbridge Deposit. The same survey conducted on 2 historic drill holes suggest that conductive material does in fact continue to depth and to the north of Kenbridge Deposit.
Matching rock types kilometers apart using the same scientific study bodes well for future exploration success.
Discovering additional deposits can help improve all aspects of development, from lower CAPEX, improved economics and infrastructure.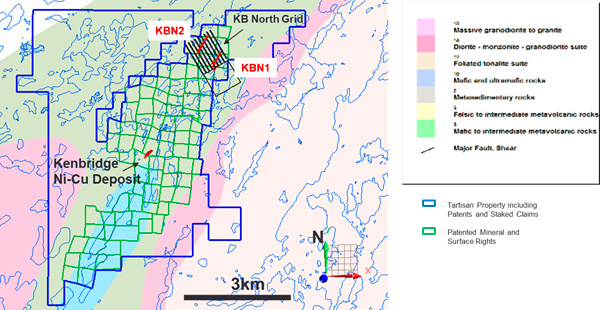 Aster Funds Survey of Kenbridge Nickel Project
Tartisan CEO Mark Appleby said, "the survey picked out the Kenbridge Deposit and has shown the possible extension to the Kenbridge Deposit and three additional trends that relate directly to underlying geology and structure implicit in the Kenbridge Deposit. Of significant interest, the survey found two gold trends as well, which include the Violet and Nina historic gold occurrences. One of the occurrences is almost 54 hectares in size and covers almost all of three of our staked claims on the border of the Kenbridge property."
The Kenbridge deposit has unexplored potential, through the extensive underground intersections that indicate the deposit remains open and possibly richer at depth, to the potential for new discoveries that can supply future battery metal demand.
The future looks very bright for those interested in this emerging smallcap Battery Metals explorer.
Tartisan Nickel Corp. plans to expand on these intersections, upgrade the Indicated and Inferred Mineral Resources and test high potential nickel exploration targets, such as the Kenbridge North Target.