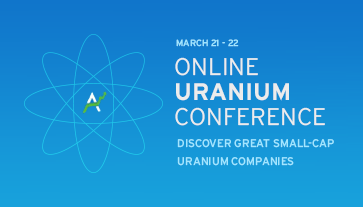 As you may know, we are currently hosting the AGORACOM Online Uranium Conference. Â It is a micro-conference, with just 3 Uranium Company Presentations and 5 Uranium Expert Presentations … but it is MACRO full of unbelievable information and presentations.
For those of you who did not have time to peruse the conference, I've taken the time to neatly wrap it all up for you below. Â All you have to do is pick what you like and click!
5 GREAT EXPERT PRESENTATIONS
"Quite Simply, Everything An Investor Needs To Know About The Global Uranium Market" Â  Â  – George Tsiolis, Founder, AGORACOM
1. Â Global Nuclear Power Outlook & Uranium Demand Forecast (Watch Presentation)
2. Â Uranium: Where Is It and How Do We Find It? (Watch Presentation)
3. Â The Uranium Financing Market (Watch Presentation)
4. Â Global Uranium Markets: Long-Term Contracts vs. Spot Price (Watch Presentation)
5. Â End Of The HEU Era: What Uranium Investors Need To Know (Watch Presentation)
3 GEAT URANIUM COMPANIES – DID YOU KNOW?
Energy Fuels Will Produce 1 MILLION Pounds Of Uranium In 2013, Equal To 25% Of All United States Production? (Presentation)
Fission Energy Outperformed All Junior Uranium Companies In The Past 6 Months? (Presentation)
Kivalliq Energy Has Added 43.3 Million Inferred Pounds Since 2010 AND Raised $35 Million Since Fukushima? (Presentation)
IF NOT, WHAT ARE YOU WAITING FOR?