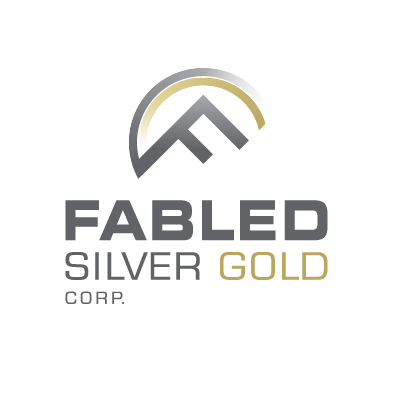 Fabled Silver Gold Corp. ("Fabled" or the "Company") (TSXV:FCO)(OTCQB:FBSGF) and (FSE:7NQ) is pleased to announce updates of diamond drill holes SM20-08B from the on-going 8,000 meter drill program on the "Santa Maria" Property in Parral, Mexico.
As previously mentioned in our news release of March 31, 2021, drill hole SM20-08 was collared approximately 225 meters east of the drill station for holes SM20-4, 5, and 6. See drill plan below as designed to drill thru the interpreted main north – south structure at an oblique angle and hit the Santa Maria structure.
The hole was drilled with NQ size core, 1 7/8th inches at -50 degrees for a premature total depth of 64.18 meters where the hole was terminated by major faulting and could not be advanced further.
Drill hole SM20-08B was a re-entry into hole SM20-08 with larger PQ size drill core, 3.36 inches in diameter, to compensate for the massive broken structure, which allowed the hole to be drilled to a final depth of 234 meters and was successful in reaching its target.
Drill results just received show the last sampled interval was from 226.5 – 227.6 meters grading 75.9 g/t silver in a north – south silicified structure, mineral bearing and black in color, this unit continues to the end of the hole at 234 meters, an extra 6.4 meters.
Peter J. Hawley, CEO and President, states, "The rest of this hole is now being sampled on a rush/priority. In addition, once the drill machine completes hole SM20-13 it will return to this drill station, re-enter the hole and continue from the depth of 234 meters onwards until the structure has been clearly exited."
Drill hole SM20-09 was drilled with PQ size core from the collar, in anticipation of bad ground conditions, at -60 degrees for a targeted depth of -250 meters to hit the Santa Maria structure, as encountered in hole 8B and was terminated prematurely at 231 meters where not only did the hole collapse due to the fault but jammed the drill rods and a section of the drill string and bit was left in the hole.
BLUE SKY DRILL TARGET UPDATE
Peter J. Hawley, CEO and President, remarks, "As I mentioned previously, we are exploring areas never explored before, with new ideas to test our structure-on-structure theory over the Property.
New roads and drill pads have been completed to test IP Geophysics anomaly IPSM-04 located in the central north section of the Santa Maria Property and extends over 700 meters in an east – west trend.
Geophysical interpretation describes the anomaly as follows; " IPSM-04 is +700 meters trending east to west over calcite / silica veins trending north to south. Both targets are considered to be shallow seated wide body targets which could represent disseminated to sulphide mineralization associated with quartz carbonate veins and imprinted over the East – west anomaly."
Drill hole SM20-12 has been designed to intersect the eastern extension of the anomaly at a vertical depth of -150 meters, while SM20-13 is being planned to intercept the western sector of the anomaly at a vertical depth of -275 meters.
A major C1 regional north – south fault in the center of the property displaces the anomaly approximately 30-40 meters to the south. This is the same structure tested by holes SM20-8-11. See Plan View of Drill Station Locations over IP Anomalies below.
In the area of the intersection of the North – South Structure and anomaly IPSM-04 a surface alteration zone with micro lineaments NorthSouth that corresponds at the emplacement of a dike which has been totally replaced by quartz and pervasive silicification in stockwork form ("STW") and halo's with STW of quartz in the limestone unit.
Peter Hawley continues, "We are systematically taking what was previously thought of as simple E-W high grade structure and re-evaluating, with numerous successes to date, in order to develop our new concept which is seen below in the "Plan View of Drill Station Locations over IP Anomalies".
Over the next few drill holes to test the blue sky potential in the north of the Property should add to the new data base as we start to dial in the focus of the remaining drill program. With the Company well funded we will continue to explore all targets as they present themselves."
The Company has completed drill holes SM20-01 – 11 for a total of approximately 2,600 meters of the ongoing 8,000 meter drill program completed to date. Holes SM20-8B and SM20-10, 11 have been sampled and submitted to ALS Chihuahua Laboratory for analysis. Hole SM20-12 is currently in progress.
Tags: Discovery, Drilling, Epithermal, gold, Mexico, otc, Peter Hawley, silver, tsx