Fabled Silver Gold (TSXV:FCO ) (OTCQB: FBSGF) is in the metal discovery business.
They recently added copper to the exploration menu with news of a spin out of their Northern B.C. assets into Fabled Copper Co., providing FCO shareholders with a new vehicle capable of making a metals discovery.
Fabled Silver Gold controls 100% of the Santa Maria Gold and Silver property in Mexico and is its flagship project. It is a high grade underground mine with a rich mining history and a Silver Equivalent 43-101 with 3.2million ounces Indicated and 1.1m inferred.
Now as far as silver projects go 3.2M ounces isn't very big but when serial mine finder and industry stalwart Peter Hawley was presented with it in 2016, he came out of retirement saying "it was almost too good to be true" and "this is the one I've been looking for."
Santa Maria's best historical intercept to date is a reported 11meters of 1,672 g/t Silver & 3.74 g/t gold and ending in mineralization. Current exploration has demonstrated drill success from the very first holes with an incredible intercept of 10 ounces of silver over 6 meters. As a result of the drill success, Fabled increased their original program from 8,000m to a minimum of 9200m to drill from underground to firm up the known resource, and for "Blue Sky drilling" to explore the numerous anomalies unexplored on the property capable of demonstrating discovery potential.
Not only that, Santa Maria is definitely in a great "neighborhood" within the mining friendly jurisdiction of Parral that has produced over 250M oz silver. The Parral mining district is situated in the centre of the Mexican epithermal silver-gold vein districts. The belt has been recognized as a significant metallogenic province, which has reportedly produced more silver than any other equivalent area in the world. Grupo Mexico, as an example, are their neighbor and border the Santa Maria property. Grupo (GMBXF) valued at 38$Billion, is the largest mining corporation in Mexico.
Santa Maria is in the perfect environment for further discoveries and increased development, yet has never been systematically or thoroughly explored with modern methods, until now. FCO is currently conducting their first drill program to support the 43-101 and expect results flowing right through June. It's an excellent project and a company maker.
So why are we switching to copper?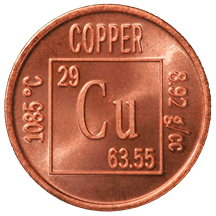 Peter thinks he can do it again, only this time with Dr. Copper, who is in a metals bull of its own, and with properties located in a very favorable mining jurisdiction, British Colombia, Canada
Fabled is spinning out its copper assets to be placed into a new public vehicle, Fabled Copper Co., and the assets are good, really good. They already demonstrate the necessary value to create an excellent copper exploration and development company. In this case, Fabled's Northern B.C "Muskwa" copper assets act like a dividend for Fabled Silver Gold shareholders. A unanimous Board approval vaults the Muskwa Copper project directly into the forefront of investors' attention. Current shareholders will receive a new share in Fabled Copper Co. for every 5 Fabled Silver Gold Shares. It's an incredible bonus for shareholders as it generates a Newco to follow a completely different metal currently in its own bull market.
Shareholders will own shares in both companies, Silver and Copper, and benefit by allowing capital markets to ascribe value to the Muskwa copper project independent of the Company`s silver properties.
Alone, this is a great deal for shareholders, but what may be hidden amongst the capital markets excitement is the fact that the 100% controlled Muskwa project comprises 3 known deposits and over 20 copper occurrences.
This is not small scale. The exploration and development infrastructure is advanced, extensive really. Fabled is prepared to act very quickly and are already on task to define multiple exploration teams, outfitters, helicopter services to outline, and budget a July to September 2021 exploration program.
Sometime words convey the story, but in this case it is better to hear it and see it directly.
Watch this amazing 2 minute video with CEO Peter Hawley that captures the magnitude of the exploration potential and work accomplished to date. It portends a very bright future for a discovery for all shareholders near and dear to Fabled. Silver, Gold….or Copper.
Tags: BC, canada, copper, Discovery, Exploration, gold, Juniors, silver, smallcap, stockmarket, stocks