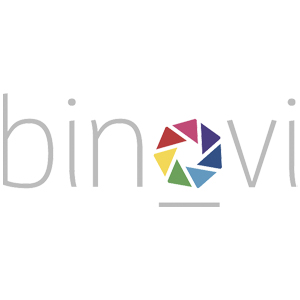 CLIENT FEATURE: Binovi Technologies (VISN: TSX-V) Sets Sights on Disrupting $600bn Sports Performance Market
Why VISN?
Binovi is well-positioned to further commercialize and capitalize on the massive demand for Vision Therapy and Training For Athletes and Education.
Strong IP Portfolio
1 in 4 people on the planet have vision problems that go beyond simply not being able to read those letters on the wall and requiring a prescription.
Since the launch of Binovi, more than 800 organizations have been registered and have used the platform for vision therapy, sports vision performance.
Clients Include:

Dallas Stars (NHL)
Chicago Cubs (MLB)
Sporting KC (MLS)
Tennis Canada
Showcased During NFL Scouting Combine

Company's Vision Therapy Products Used In:

Over 1,500 Practices
20 Countries

These organizations have created nearly 31,000 users and have completeded more than 400,000 active sessions centred around the Binovi Library list of activities, custom activities created by member organizations.
Flagship "Binovi" Is State-Of-The-Art Platform

Measures 14 Key Vision Skills
Essential For Maximizing Brain Performance

Signed Sports Vision Partnership With Eli Wilson Goaltending

World Leader In Goaltending Development
600 Active Goaltending Camp Participants
50,000 Global Aspiring Goaltenders

Announced a strategic partnership with STEM Sports
Expanded its global reseller network with a partnership with Sport-Orthèse, major European sports e-seller
Binovi Technologies – Vision Performance and Vision Therapy
Recent Highlights
Q3 2020 Financial Highlights:
Revenue increased by more than 100% in Q3 2020, in comparison to Q3 2019
A combined $3.12 Million raised through private placement subscriptions with strategic investors.
February:
Binovi Partners with European Reseller Sport-Orthese to Commercialize Binovi Hardware

This move demonstrates Binovi's ongoing efforts to optimize its revenue opportunities within its global strategy.
January
Binovi Partners with STEM Sports(R) to Contribute to K-8 Curriculum that will be Binovi Connect Enabled
Binovi Technologies Q3 2020 Revenue Up, Increasing Top-Line and Gross Margin Results
Market Analysis
Sports Performance Market is a $600 Billion Opportunity
Vision Therapy captures 3% of a $36B Yearly Vision Market today.
Vision Therapy grew by 22% in 2020 and won 4% of the $39B Yearly Market in 2020 with organic growth.
VISN's sights are set on disrupting the sports performance industry in 2021, as we receive engagement from leaders within the human performance – sports performance industry.
The size of the sports performance market reached a value of nearly $488.5B in 2018, having grown at a compound annual growth rate (CAGR) of 4.3% since 2014, and is expected to grow at a CAGR of 5.9% to nearly $614.1B by 2021.
What is VISN?
Binovi is a best-in-class neuro-visual performance platform designed to test, analyze, track, and report on individual cognitive performance.
Binovi is designed for vision optimization and the enhancement of cognitive skills related to human performance.
Binovi Technologies Corp (TSX-V: VISN | OTCQB: BNVIF) is reshaping V Education, Vision Care, and Performance through Purposeful, Powerful Vision Training
Utilizing in-office and home-based activity protocols, the innovative Binovi platform helps optometric practices gain greater results, faster, with improved patient satisfaction in areas ranging from sports performance to binocular vision abnormalities.
In a world in which competitors are seeking an edge, Binovi vision training develops faster brains to deliver that edge.
How Does VISN Work?
Binovi combines hardware, software, specialized expert knowledge, and unique data insights to deliver customized, one-on-one training and learning protocols ideal for K-12 Students, Vision Care Specialists, and Sports Performance testing and training.
Binovi goes far beyond fixing eyes that simply can't see a bunch of letters on an eye chart. Rather, Binovi delivers higher-performing brains by optimizing the performance of the eyes. Binovi synchronizes your eyes and your brain to deliver maximum performance for athletes and students.
Designed for vision optimization and the enhancement of skills related to cognitive performance, Binovi provides measurable results in less time, and with less effort.
Who Uses VISN?
Binovi is currently used in over 20 countries and supported by recognized optometry leaders.
Patients: Optometrist-lead vision therapy for patients suffering from developmental issues or recovering from injury.
Optometry Professionals: Practicing optometrists and vision therapists working in development, rehabilitation, and healthy ageing.
Athletes: Optometry-backed tools to help improve sports vision performance indicators like reaction time and hand-eye coordination.
Binovi $VISN.ca $BNVIF
$EYPT $KALA $PTON $WELL.ca $DOC.ca $DOCRF
Binovi Techologies Corp. is traded on the TSX.V as VISN.
For more information, visit: https://binovi.com/investors/
FULL DISCLOSURE: Binovi Technologies is an advertising client of AGORA Internet Relations Corp.
Tags: Binovi Touch, CSE, Eli Wilson. Eye therapy, eye training, neuro-visual performance, tsx