GlobeInvestor.com and ReportOnBusiness.com are the online business and investing arm of the Globe & Mail, Canada's national newspaper. That is significant because GlobeInvestor brings in about 950,000 unique visitors per month, though we've heard the number is bigger.
As some of you know, AGORACOM has been the exclusive provider of small-cap resources and energy content to Globe for several months now, including a gateway from the front page of both GlobeInvestor and ReportOnBusiness.
However, as AGORACOM continues to grow and gain a wider global audience of investors, bloggers and media, it's important to repeat it on our blog every once in a while. To keep it fresh, I've included images with links.
Have to admit a certain amount of pride to know that little ol' AGORACOM is making its mark with the biggest and most respected name in Canadian business media.
Regards,
George
FRONT PAGE – GLOBE INVESTOR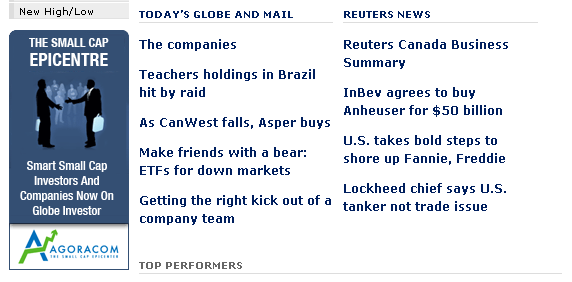 FRONT PAGE – REPORT ON BUSINESS (ENERGY)