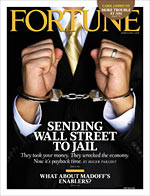 Fortune Magazine recently published Web 2.0 Is So Over, Welcome to Web 3.0 , to which I call bullshit. On the one hand, the premise that many Web 2.0 companies have failed for lack of a business plan is absolutely true. I've been banging the table on this since the first Mesh Conference, on Twitter , TechCrunch (Web 2.0's most destructive blog) and GigaOm.
But for Fortune to go the next step and say these are representative of Web 2.0 business models is utter bullshit and, quite frankly, lazy journalism. Yes, YouTube / Facebook / Twitter may be the most popular members of the Web 2.0 class – but pinning the Web 2.0 business outlook on them is akin to pinning the future of a high-school class on its most popular jocks….and I'm sick of it.
For some reason, Web 2.0 bloggers (i.e. Techcrunch) and writers (i.e. Jessi Hempel) insist on using traffic as a measure of success. Folks, if a million people use your services but refuse to give you a dollar, you don't have a business – you have a hobby. Fortune and Techcrunch still don't realize this – it's as if they weren't around for dot-bomb and are still star struck by Super Bowl money-burners.
2 COMPANIES THAT MAKE MORE MONEY THAN YOUTUBE, TWITTER AND FACEBOOK COMBINED
The fact of the matter is that if you took a minute to look past the popularity contest, you would actually find thriving Web 2.0 companies like Freshbooks and AGORACOM that have used Web 2.0 technology to deliver value-added services that customers are – gasp! – actually willing to pay for. No, we don't have a zillion users viewing a gazillion pages and posting a gigazillion number of messages/photos – but we each make more money than YouTube, Twitter and Facebook combined.
TECHCRUNCH START-UP COVERAGE DESTROYED THE WEB 2.0 ECOSYSTEM
I don't expect Freshbooks and AGORACOM to get more overall coverage than popular Web 2.0 sites – but when it comes to discussion about business models, we deserve our props and so do other real Web 2.0 companies that we don't know about. Not just for notoriety reasons but as an example of what other Web 2.0 entrepreneurs should be doing.
Why?
The Techcrunch glamorization of cool but useless Web 2.0 companies has inflicted significant damage on the entire ecosystem by encouraging the development of free mass-market "me too" technology. In dot-bomb, companies were selling $1 bills for 90 cents. Today, they just offer stuff for free and don't even bother asking for money. They may be burning through significantly less money – but the result is the same. For what it's worth, it was more fun watching companies burn through $100 million in 6 months than the slow agonizing death of today's money-less losers.
Covering companies that have taken the time to cultivate and succeed from real business plans, on the other hand, would have inspired many others to go this route – and we wouldn't be reading articles titled "Web 2.0 Is So Over".
If the bloggers and journalists can't do their jobs, maybe you can. I'd love to hear about other Web 2.0 companies generating real revenues ( > $500,000) and real profits from real customers.
UPDATE: Mark Evans has jumped into the fray with a great post that also refers to this post.  You can read my comment and why I believe this needs to become a topic at the upcoming Mesh Conference.
UPDATE #2: Chris Anderson, Editor-In-Chief of Wired, posted a story on this very subject to the Wall Street Journal. Clearly, we are at a tipping point in the world of online business models.  Glad to see it after pounding the table on this subject for 3 years now.
Regards,
George