I've had a number of people call, e-mail or tweet me asking about what I'm doing in this wicked TSX Venture downdraft. Â In short, I'm stalking and waiting patiently for new entries.
Aren't Prices Attractive Enough Now?
For long-term holds, there are some beauties sitting out there …. Donner Metals is a screaming buy for example.
For short-term trades, I believe we are in no man's land right now. Â I posted my reasons to Twitter and won't repeat here. I'll just paste my comments in: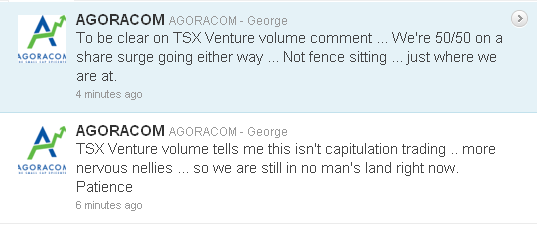 CONCLUSION – I'm not buying trading positions at these levels. Â I'll either buy lower on capitulation confirmed by volume, or higher on a break to the upside. Â  Buying trading positions at these levels is no man's land.
Regards,
George