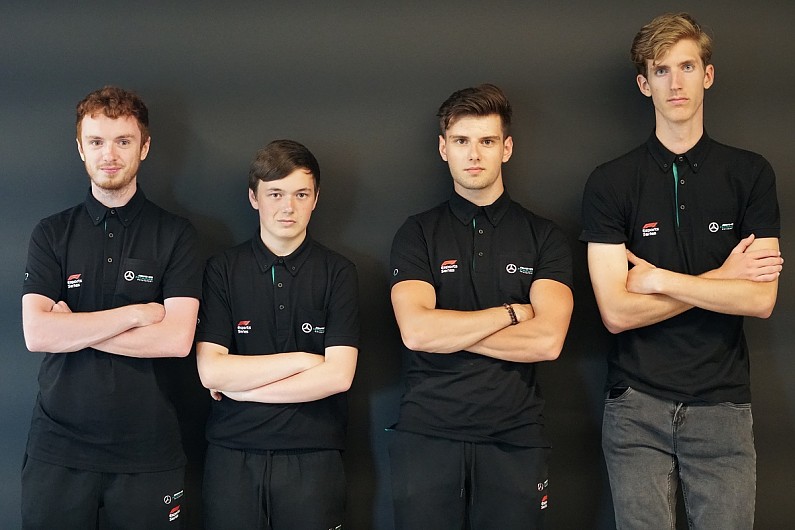 Mercedes has announced inaugural Formula 1 eSports champion Brendon Leigh as a driver for its brand-new virtual racing team.
Leigh, who defeated Fabrizio Donoso Delgado and Sven Zurner in a controversial final last year, will defend his drivers' championship with Mercedes
"The pressure is somewhat enormous to defend this championship," Leigh told Autosport earlier this year.
"I'm going to walk into the finals with the biggest target on my back that I've ever had in my life. The intensity has risen tenfold."
The 19-year-old will compete alongside 2017 McLaren World's Fastest Gamer finalist Harry Jacks, multiple-Polish sim racing champion Patryk Krutyi and Dani Bereznay, who was selected by the team in July's Pro Draft.
The team will be based at Brackley alongside its real-life F1 team.
It will use a "purpose-built eSports training centre, which will provide the team's gamers with state-of-the-art facilities and equipment to develop their skills," according to Mercedes a statement.
The eSports team will be based in the same building as Mercedes' 'F1 Driver in Loop Simulator'.
"The eSports programme will benefit from transferable elements pertinent to optimising car set-up and honing racecraft," the statement continued.
"The programme also focuses on human performance and will give the eSports team members access to the on-site Performance Centre covering the core areas of nutrition, physical conditioning and wellbeing that support the gamers in reaching their full potential."
Premium motorsport journalism in an
ad-free experience.
The quartet will start competing in October in the next stage of the F1 2018 eSports series.
F1 eSports 2018 line-up so far
Mercedes AMG Petronas Motorsport
Brendon Leigh, Harry Jacks, Patryk Krutyi, Daniel Bereznay
Red Bull Racing eSports
Joni Tormala, Graham Carroll
Renault Sport Team Vitality
Sven Zurner, Kimmy Larsson, James Doherty
Haas F1
Martin Stefanko, Michal Smidl Hype Energy
eForce India
Fabrizio Donoso Delgado, Mads Sorensen, Marcel Kiefer
McLaren Shadow
Olli Pahkala
Toro Rosso
Cem Bolukbasi, Patrick Holzmann Sauber Salih Saltunc, Allert van der Wal, Sonuc Saltunc
Williams eSports
Tino Naukkarinen
Source: https://www.autosport.com/gaming/news/137898/mercedes-launches-official-f1-esports-squad
Tags: #smallcapstocks, $TSXV, CSE, eGambling, egaming, esports