SPONSOR: ThreeD Capital Inc. (IDK:CSE) Led by legendary financier, Sheldon Inwentash, ThreeD is a Canadian-based venture capital firm that only invests in best of breed small-cap companies which are both defensible and mass scalable. More than just lip service, Inwentash has financed many of Canada's biggest small-cap exits. Click Here For More Information.
Crypto Today: Bitcoin is ready for a massive bull's run
Here's what you need to know on Wednesday
Markets:
The BTC/USD is currently trading at $8,347 (+5.8% on a day-to-day basis). The coin has been moving within a strong bullish trend and hit a new 2020 high at $8,464.
The ETH/USD pair is currently trading at $144.7 (+1.18% on a day-to-day basis). The Ethereum retreated from the intraday high of $147.96; now, it is moving within a short-term bullish trend amid low volatility.
XRP/USD settled at $0.2145 after a spike to $0.2255 on Tuesday. The coin is down 1.15% in recent 24 hours.
Among the 100 most important cryptocurrencies, the best of the day are Quant (QNT) $3.9 (+17.5%), Synthetix Network Token (SNX) $0.9973 (+13.57%) and Horizen (ZEN) $8.43 (+13.16%), The day's losers are, Decentraland (MANA) $0.0335 (-8.5%), MaidSafeCoin (MAID) $0.0810 (-7.42%) and Komodo (KMD) $0.5434 (-5.92%).
Chart of the day:
BTC/USD, daily chart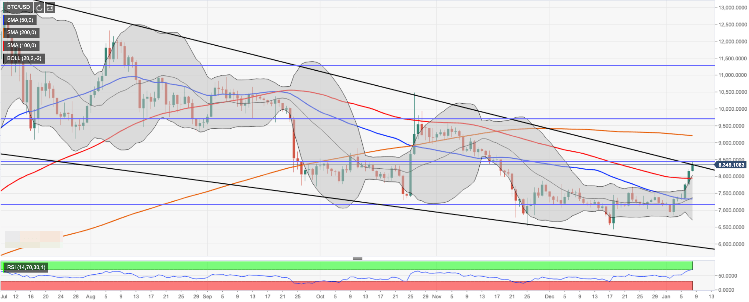 Market:

Bitcoin (BTC) rallied to as high as $8,464 amid the escalation of geopolitical tensions in the Middle East. While the correlation is not clear, many experts believe that Bitcoin is growing due to rising conflict between the United States and Iran as a push towards the recent high occurred amid the news that Iran had attacked US military bases in Iraq.
Tether (USDT) market capitalization increased by $500 million on CoinMarketCap due to the rating adjustments; however, some experts believe that this development might have served as a buy signal for algo bots and set Bitcoin's bullish ball rolling. BTC/USD started snowballing in a few hours after CoinMarketCap updated its Tether capitalization.
Cryptocurrencies may be an exciting concept, but they won't threaten the dominant position of the US dollar, according to International Monetary Fund (IMF) chief economist, Gita Gopinath. She believes that the technologies have not reduced the costs of moving between the currencies, which is the critical barrier on the way to overtaking USD.
Industry:
Istanbul update implemented on Etheereum network at the end of 2019 increased the scalability of StarkEx protocol for centralized exchanges, StarkWare experts noted.
"StarkEx *measurements* (not approximations, nor estimates) break Ethereum's scalability record post-Istanbul, with a 2000X improvement over Ethereum Layer-1: 9K trades/sec at 75 gas/trade (or 18K payments/sec) (1/5)"
Binance Charity Foundation launched a program aiming to help Australia mitigate the consequences of bushfire. The blockchain-based charity platform created by one of the world's leading cryptocurrency exchanges invites everyone to participate in the program and donate funds to support Australia. Binance intends to donate $1 million.
Berlin-based bitcoin bank Bitwala included ether (ETH) to the list of available services. The bank allows customers buying ETH, the second-largest cryptocurrency asset by market capitalization, right from their current accounts. The company explained the decision by Ethereum's significant role in decentralized finance (DeFi) movement,
Source: https://www.fxstreet.com/cryptocurrencies/news/crypto-today-bitcoin-is-ready-for-a-massive-bulls-run-202001080639