Good afternoon to you all. AGORACOM  is pleased to announce that the Yahoo Finance Canada Small Cap Centre – Powered By AGORACOM, has been launched on the front page of Yahoo Finance Canada. The Small Cap Centre is an integral element of the newly launched Yahoo Finance Canada, occupying the greatest amount of front-page real estate than any other content provider. To view the Small Cap Centre on Yahoo, please visit http://ca.finance.yahoo.com/ and scroll through the middle column.
COMPELLING CONTENT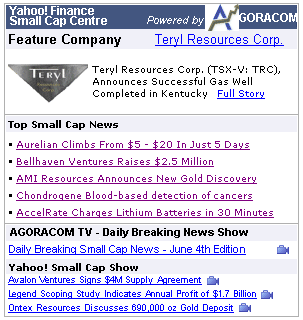 As a primary resource for small-cap investors, AGORACOM populates the Small Cap Center on a daily basis with compelling content from the Small-Cap world that includes the following:
• Feature Company
• Top 5 Press Releases
• Yahoo Small Cap Show Featuring
o Expert's Corner
o Interviews with CEO's of 3 Companies
A BREAKTHROUGH FOR THE SMALL CAP INDUSTRY
Given the #1 traffic ranking of Yahoo around the world, the significance of this development can not be overstated. Specifically, the world's biggest finance site is providing small-cap companies with highly-coveted and extremely valuable front page exposure to tell their stories.  Combined with our AOL Small-Cap Partnership, small-caps will finally have a chance to stand and be judged on their own merits and are no longer being shut out by the major financial media.
HOW TO PUBLISH YOUR CONTENT
If you have released significant news that would be worthy of front-page coverage, please e-mail it to us at breakingnews at agoracom.com Please do not send ordinary course news, or add us to your general press release e-mail list, as we will have no choice but to block your e-mail address and miss future news of significance.
That is all for now. Have a great day and we hope to hear from you soon. For those of you attending this weekend's Cambridge Conference in Vancouver, feel free to e-mail me at AIR at agoracom.com to arrange a meeting and discuss this matter further.
Regards,
George