The family and I were at church earlier today, followed by the typical social gathering in the church hall.  While there I spoke to a very good friend of mine (I'm not describing him any more than this to maintain his privacy) who advised his family has just purchased a condo in Florida for just $US 60,000.
How big of a killing was this recent purchase?  After factoring in the fall in Florida real estate and the rise of the Canadian Dollar, you're probably looking at anywhere between $CDN 65,000 – $75,000 over the last couple of years.
The killing is even more dramatic in percentage terms, which is anywhere between 50 – 60%.
This was ironic because I quickly recalled a Twitter conversation I had earlier this week with my friend and Top 10 Financial Blogger, Paul Kedrosky, that went like this: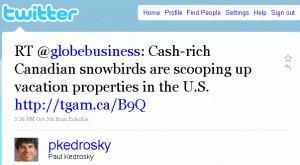 ===============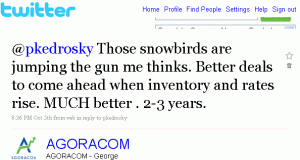 ================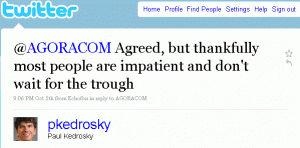 =================
Now, I think my buddy made a great purchase because it's hard to argue with a 2-bedroom condo for just $US 60,000.  However, for the most part, I still think it's too early to get into Florida real estate.  Why?  I think the $USD is going to get even cheaper and real estate is going to fall even further due to factors like greater supply coming to market as a result of the foreclosure moratorium.
If you're Canadian, are you considering buying real estate in the US?  Or is it too soon and better deals are still on the way?
If you're American, are you considering buying real estate (other than a principal residence) at these prices?
FOLLOW UP:  Here's a little more support for my position.  Housing Crash to Resume on 7 Million Foreclosures – Bloomberg
FOLLOW UP #2: After a number of comments below, it is telling that not one person is advocating the purchase of US real estate at this time.  Some would say this is a great contra-indicator and telling us this is precisely the time to buy – but this is one of those cases where I'm going to go with the crowd.
Regards,
George