The biggest news for small-cap investors to digest – by far – is that PIMCO has not only sold all of its US Debt Holdings, it has gone short.  Find my comments below via Twitter (reverse chronology) and my follow on comments below on how this plays out (theory vs. practically):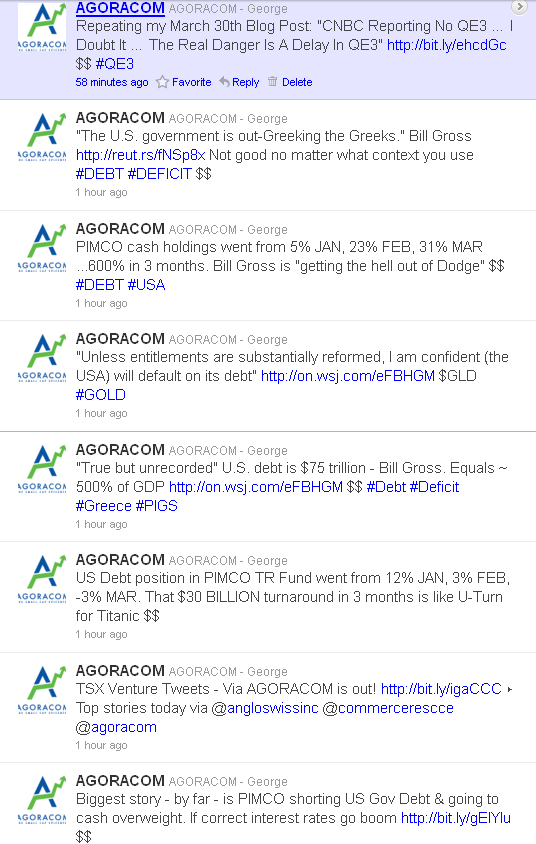 WHAT DOES THIS MEAN – Theoretically?

On it's surface (I stress SURFACE), Bill Gross, Founder of PIMCO, is telling us that QE3 isn't coming and nobody will be stepping into to replace US Fed purchases of US Gov't debt.  That will lead to – at the very least – a drop in Debt prices, so he is getting the hell out of Dodge.  Simple enough … until you get to my practical comments below.
First, here are the theoretical (I stress THEORETICAL) follow-on effects:
INTEREST RATES – Going higher, just a matter of degree
$USD – Should strengthen with rising rates
EQUITIES – Should weaken for two reasons: A) Corporate expenses rise on higher borrowing rates = lower profits; B) Investors sell stocks to raise cash. Small-cap resource stocks fall in unison.
GOLD / SILVER – Should weaken against the US Dollar at the very least, potentially against most major currencies
US REAL ESTATE – Bombs Away .. my real estate theory since October 2009 remains intact
WHAT DOES THIS MEAN – Practically?
Unfortunately, we have learned over the last decade that economic theory can no longer be relied upon.  After all, interest rate easing that began after 9/11 was never intended to crash real estate markets, plunge the planet into a debt crisis and lead to record nominal gold prices … yet here we are despite the "brightest" minds at the US Fed, White House and Central Banks around the world.
What truly happens isn't so linear because market manipulation has taken the natural ebb and flow out of all markets – debt, equities, commodities, currencies.  Prices are no longer determined by value – they are determined by confidence or a lack thereof.  As such, what should practically happen is the following:
CONFIDENCE CRISIS – When US Fed purchases of US debt vanishes and isn't replaced by the market, a crisis of confidence will commence.
INTEREST RATES – Will move incrementally higher, then accelerate as US debt prices free fall
$USD – Will initially strengthen with rising rates and bond nibbling, then drop as investors realize bond/confidence risk is too great.  Swiss Franc and Canadian Dollar will do very well.
EQUITIES – Double Dip probability rises dramatically. Small-cap resource stocks take an initial hit, followed by massive rebound on gold, silver moves (see below).
GOLD / SILVER- Will initially weaken by as much as 20% /30% respectively on early $USD strength, then rocket towards all-time inflation adjusted highs of ~ $2,200 and $150 within 12 months
US REAL ESTATE – Bombs Away .. my real estate theory since October 2009 remains intact
AM I A GENIOUS OR WHAT?
I'd like to think so – but I don't think so for two reasons:
1] Obvious Reason – I could be very wrong and a number of other outcomes could occur.  This time, I think I'm right – but see #2 below
2]  The Fed / White House / Wall Street Financial Matrix Isn't Stupid – Despite what many smart people have to say, the powers that be aren't as stupid as they seem.  They just don't give a damn about your long-term interests. Despite damage to the current and long-term US economy, I firmly believe they have executed their plan perfectly in their best interests – and they're not finished ….
QE3
It's coming … 100% … only this time it will require the financial pain I have outlined above in order to politically justify it … but as I posted on March 30th, QE3 Will Be Delayed, Not Terminated.
At that point, the game plan resumes … but not before Bill Gross and PIMCO step back into US Debt, go long and make a killing on their cash thanks to rising debt prices, which leads to falling rates, much weaker $USD, stabilized stock markets, MUCH higher gold/silver, MUCH higher junior resource stocks.
Until then, plan accordingly.
Regards,
George