I would first like to welcome all of our new CEO's and IRO's added to our list since our last newsletter in October.
We are very pleased to announce that AGORACOM continues to hit significant traffic milestones in the small-cap space, with more than 319,500,000 page views and 32,000,000 visits to AGORACOM in our first 5 years of tracking traffic through Google. These traffic figures are even more meaningful given the significant macro economic issues affecting small-cap stocks during the financial crisis of 2008 – 2009, as well as, market turmoil over the past year.
 AGORACOM REWARDED FOR FOCUS ON QUALITY VS QUANTITY
Having identified that small-cap companies were being hurt by unmonitored and frankly, crazy, postings on popular but unmonitored sites around the web, AGORACOM was built on the philosophy of focusing on:
High-Quality Small-Cap Companies
High-Quality Small-Cap Discussion
More than just lip service, we implemented the first and only investor monitored small-cap community that gave high-ranking investors the ability to delete posts containing spam, profanity and unfounded rumors – all the things that used to hurt serious small-cap companies.
As a result, AGORACOM now ranks amongst the top 0.3% of all websites on the planet.
As always, here is the official Google Analytics snapshot for the period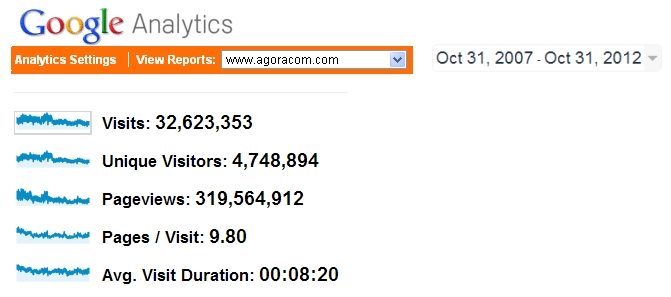 WHY AGORACOM IS YOUR INVESTOR RELATIONS SOLUTION
1.  Serious Small-Cap Investors
In addition to the traffic numbers above, each small-cap investor reads an average of 9.8 pages on every visit and stays on the site for 8:20 per visit … these small-cap investors are engaged in serious research.
2.  Faster, Cheaper, Way Better

Our programs are cheaper than traditional investor relations … while directly reaching your target market of investors within 24 hours of starting your program.
IR SOLUTION FOR TSX LISTED COMPANIES

If a picture is worth 1,000 words, TSX companies will love what the image says below.  TSX Companies Can Now Post Investor Relations Messages To AGORACOM & Simultaneously Post To The Following Tier-1 Finance Sites.  No other IR solution on the continent can combine this audience with our service levels.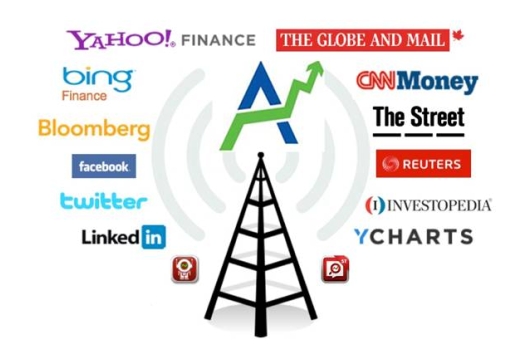 MARKETING SOLUTIONS FOR TSX VENTURE LISTED COMPANIES – SHARES FOR SERVICES
More than anything else, TSX Venture companies need to raise awareness.  The massive AGORACOM network puts your company in front of millions of investors, generating ~ 1,000 prospective investor visits per month.
More importantly, with our new compliant Shares For Services program, you can conserve valuable cash that is already allocated for your operations.  Win-Win.
CONTACT US TO DISCUSS YOUR ONLINE IR NEEDS AND OUR POTENTIAL SOLUTIONS
I thank-you for reading and trust you found this information to be helpful.  If you're ready to step into real and sustainable online investor relations for 2013 and beyond, please contact me below.
Best Regards,
George Tsiolis, LL.B
Founder & President
AGORACOM Investor Relations