The gaming industry is growing rapidly, though mobile gaming is set to displace older consoles.
Activision Blizzard has made key investments in eSports and will look to capitalise on its march to the mainstream.
Introduction
Activision Blizzard (NASDAQ:ATVI) is a primarily a video game developer founded less than a decade ago through the merger of Vivendi Games and Activision. It operates through five business units: Activision, Blizzard Entertainment, Major League Gaming (a professional eSports organisation), Activision Blizzard Studios, and King Digital Entertainment (a social games development company).
The company owns and operates record breaking franchises, including the beloved Call of Duty, World of Warcraft, StarCraft, Diablo, Overwatch, Destiny and King's social behemoth Candy Crush Saga. With a market cap of $47 billion, it is one of two dedicated gaming companies on the S&P 500, along with EA (NASDAQ:EA) at $36 billion. The gaming development industry is highly competitive, with a number of players, including Konami (NYSE:KNM), Ubisoft (OTCPK:OTCPK:UBSFY), Capcom, and Sony (NYSE:SNE).
Gaming Continues Breakneck Growth
Overall sales, including hardware, software, and accessories, rose 19% Y/Y to $588M, according to NPD Group, while PC and console software were up 14% and 17%, respectively. A large portion of that increase across the board belonged to ATVI's Crash Bandicoot renaissance, with the game's sales in its second month since release edged out only by Nintendo's new release Splatoon 2 in July sales.
Looking forward, Newzoo predicts that the global video game industry will grow at a CAGR of 6.2% from $101.1 billion in 2016 to $128.6 billion in 2020. The interesting segment, though, is mobile gaming, with its revenue set to grow 68% from $38.6 billion in 2016 to $64.9 billion in 2020, with its share of the total market increasing from 29% to a full 50% over that time frame.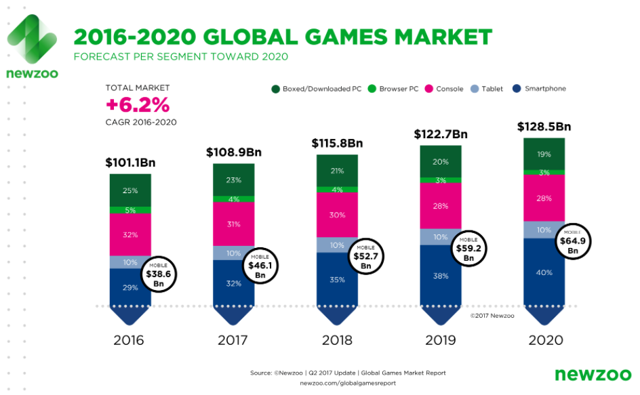 Source: https://seekingalpha.com/article/4103698-future-gaming-activision-blizzard
Tags: Activision Blizzard, eGambling, egaming, esports