The bulk sampling program is anticipated to be completed by early April 2019
The main purpose of the program is to recover a large sample of graphite to generate graphene product samples for market development purposes
This material will be subsequently purified to 99.8% and ultimately converted to graphene and graphene oxide for continued market development work.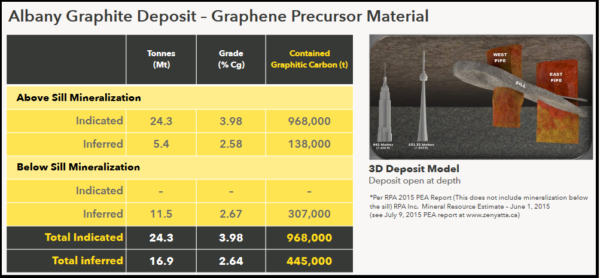 About ZEN Graphene Solutions Ltd.
ZEN Graphene Solutions Ltd. is an emerging graphene technology solutions company with a focus on development of the unique Albany Graphite Project as a precursor graphene material product opportunity and product market development. The Albany Graphite Project provides the company with a competitive advantage in the potential graphene market as independent labs in Japan, UK, Israel, USA and Canada have demonstrated that ZEN's Albany Graphite/Naturally PureTM easily converts (exfoliates) to graphene, using a variety of simple mechanical and chemical methods.
For further information:
Francis Dubé, Co-Chief Executive Officer
Tel: +1 (289) 821-2820
Email: [email protected]
Tags: #Albany, #Battery, #Bulk, #graphite, #HighGrade, #Market, #Sample, graphene