Class 1 Nickel posts a two-million-tonne-plus resource at Alexo-Dundonald Project
Tartisan owns close to 1,700,000 shares of Class 1 Nickel (NICO:CSE) through vending of Tartisan's Alexo-Kelex nickel asset in 2018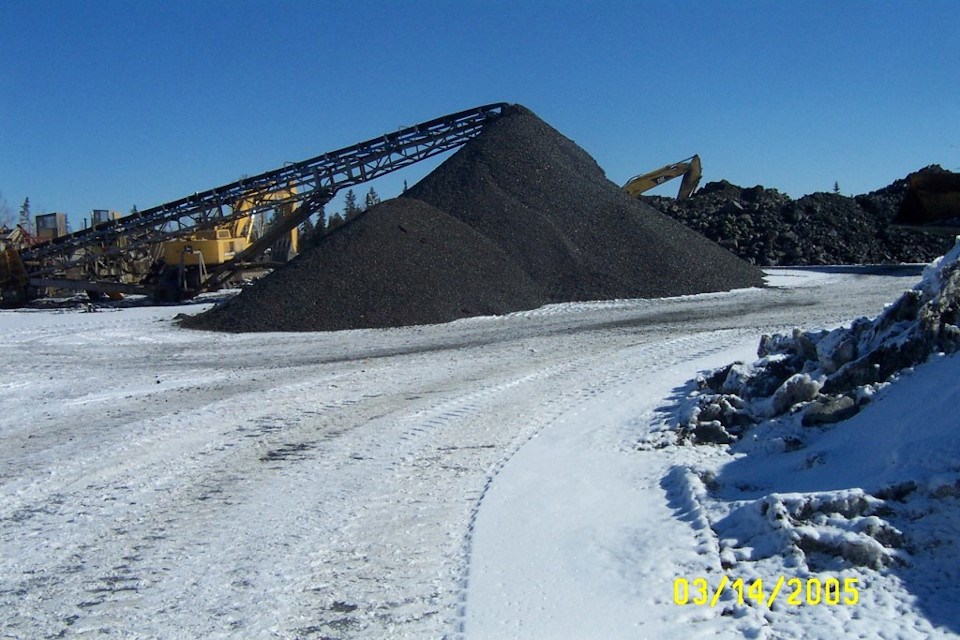 Crushed ore at the Alexo Mine site near Timmins in 2005.
A new nickel sulphide player has fully emerged in the Timmins camp seeking to revive a well-known piece of mining ground.
Class 1 Nickel and Technologies released a very promising new mineral resource estimate for its Alexo-Dundonald Nickel Project, 45 kilometres northeast of the city.
The Toronto-based company reported an updated estimated indicated mineral resource of 1.25 million tonnes with an average grade of 0.99 per cent of nickel, and a total estimated inferred mineral resource of 1.01 million tonnes with an average grade of 1.08 per cent.
The indicated resource count has jumped 119 per cent since the last mineral estimate in June. The inferred resource ballooned by 1,400 per cent.
The company thinks it has a turn-key project on its hands that can be fast-tracked into nickel and cobalt production with little capital expenditure.
With nickel, cobalt, copper, and platinum group elements in the ground, the company has eyes on supplying battery-grade material for the electric vehicle and stainless steel markets. Nickel sulphide is used in electric vehicle battery cathodes.
Class 1, which went public over the summer on the Canadian Securities Exchange, had been quietly assembling a 20-square-kilometre package of properties that hosted two former small-scale nickel mines along some promising exploration ground that follows a large 'Z'-shaped group of komatiite rocks, known to contain nickel sulphide.
The project property includes two former one-pit and underground mines – the Alexo and Kelex – that ceased operations in 2005 due to low nickel prices, plus the nearby Dundonald property which contains nickel-bearing zones.
Alexo and Kelex were mined for nickel and copper three separate times around the time of the First World War, during the Great Depression and the Second World War, and lastly between 2004 and 2005.
Class 1 said much of the property has never been probed by drilling and modern geophysics. The last drilling program at Alexo-Kelex was done in 2011, and at Dundonald in 2005.
The company's exploration program of geophysics has been focused on expanding the resource left behind at Alexo and Kelex, and probe the Dundonald property on the way to planning a drill program and eventually releasing a preliminary economic assessment report for a possible mine.
Management is currently out raising $3 million in flow-through shares for exploration.
SOURCE: https://www.northernontariobusiness.com/industry-news/mining/nickel-explorer-seeks-to-bring-new-life-to-two-former-timmins-mines-2847105
Tags: #Battery, #Demand, #ELO, #ElonMusk, #TN, CSE, EloroResources, Kenbridge, nickel, nickel demand, PEA, small cap stocks, Tesla