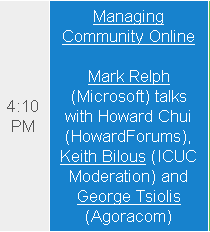 Earlier today, I was very proud to announce that I had been invited to speak in a panel discussion at Mesh, Canada's premier web conference. My panel is called Managing Community Online and is described as follows:
How do you develop and foster a community on the web? What strategies
work best when you are trying to both encourage and support a community
and business objectives? These and other questions will be tackled by this
group of online community pros.
The panel includes some people that have made a career out of creating and cultivating community – not an easy thing to do in a world full of intense competition.  As such, both attendees and myself are sure to learn some valuable lessons.  The place will be packed so get there early! (Assume my opinion is horribly conflicted).
For my part, I've taken the liberty of posting my personal Top 10 List of Do's and Dont's for developing and fostering an online community. I'll cover some of these on Wednesday but doubt I'll be able to get through all of them as I listen to my smarter fellow panelists.  Enjoy:
1. Figure Out A Biz Model or Die.
What Does Your Space Need? Find It and Fill It.
Find Paying Customers. Focus On Business Not Individual Subscriptions.  SaaS, Data, etc.
Making Money Isn't Selling Out. You Need It Before You Can Change The World
2. Position Yourself As A Premium Site – Focus On Content, Not "Cool"
3. Recruit Members/Leaders To Create Great Content and Traffic. Poach Weak Competitors. Dog eats dog.
4. Customer Service, Customer Service. Customer Service. 24/7/365 for clients AND members.
5. Hire Developers That Understand Your Business, Not Just Code. Hat Tip To Our Developers.
6. Knock On Local Doors – A Lot Of Them – And Business Will Come.
7. Attend and Network At Conferences Attended By Your Customer Base.
8. Search Engine Marketing – CPC CPC CPC CPC
9. Don't Launch A Major Upgrade Without Input From Key Members
10. Don't Add Features Without A Reason. "Feature Creep" Will Kill You.
…OK and 1 Bonus
11. Don't Pitch Technology To Clients, Pitch The Business Result!
There you have it. If you are serious about building a community that will survive long into the future, then take this list seriously.
Regards,
George