Sherwood Park, Alberta / April 28th, 2014 / Virtutone Networks Inc. ("Virtutone" or the "Company") (TSX Venture: VFX.V) today announced its audited financial results for the year ended January 31, 2014.
"We are pleased with the progress we made in 2014, with the sale of our retail division and our focus on wholesale market, which has resulted in tremendous growth in our revenue, gross profit, and income from continuing operations. We are confident that we have the foundation in place to support our continued growth," said Jason Allen, Virtutone's CEO.
The Company's complete Annual Financial Statements, Management Discussion and Analysis, will be filed on SEDAR (www.sedar.com) on April 28, 2014.
Financial Highlights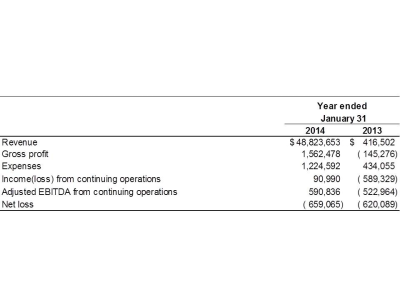 Click Image To View Full Size
These financial results are presented in conformance with International Financial Reporting Standards ("IFRS"). Certain comparative figures have been restated to conform with the current year's presentation. The Corporation's retails division has been presented as loss from discontinued operations. All figures are in Canadian dollars unless otherwise noted. Certain operational measures such as "Adjusted EBITDA" and "Adjusted EBITDA from continuing operations" are not prescribed measures under IFRS. For a description of these measures, see the Operations and Non-IFRS Measures section in Virtutone's 2014 fiscal year Management Discussion and analysis.
During the year ended January 31, 2014, the Company sold its retail division, and financial results from this division for the years ended January 31, 2014 and 2013 have been classified as discontinued operations. The Company's exclusive focus on its wholesale division has driven the increased revenue, gross profit and income from continuing operations.
Revenue from continuing operations was $48,823,653 compared to $416,502 in fiscal 2013. Gross profit increased by $1,707,754 to $1,562,478 and income from continuing operations increased by $680,319 to $90,990 over the prior year.
Net loss was slightly higher due mainly due to expenses related to the discontinued retail operations offset by earnings from continuing operations.
Fourth Quarter Highlights
Revenue from continuing operations was $25,125,266 for the three month period ended January 31, 2014.
This revenue was offset by cost of sales in the amount of $24,337,271 and resulted in a gross profit before expenses of $787,995. Total revenue from continuing operations for the three month period ended January 31, 2013 was $106,103 and gross loss before expenses was $39,875. G&A expenses have been allocated on a
percentage basis between the wholesale and retail divisions. A comparison of G&A between the three month periods ending January 31, 2014 and 2013 would therefore not allow for a proper analysis.
Outlook
Virtutone, through its wholesale market focus, is well positioned for growth:
The Company's wholesale division continues to achieve new milestones.
-The Company has tested and installed new software subsequent to year end that optimizes the Company's voice traffic, resulting in increased margins.
-The Company recently announced the launch of its Short Message Service (SMS) division and expects the division to contribute to revenue and gross profit.
-The Company will seek financing through increases to existing debt facilities and new debt and/or equity financings in order to fund its growing working capital needs. The outcome of the Company's financing efforts cannot be predicted at this time.
The Company's annual financial statements, management discussion and analysis, and other disclosures are available on SEDAR.
For further information please contact Sergio Valacco at 780-702-5777.
About Virtutone Networks Inc.
Virtutone Networks Inc. is a technology company based in Sherwood Park, Alberta and is listed on the TSX Venture Exchange in Canada. The company is a leading supplier of wholesale telecommunication services. Additional information can be found on the company's website at www.virtutone.com.
Forward Looking Information
This document may contain certain forward-looking information or statements ("Forward- looking statements") as defined under applicable securities legislation that involve known and unknown risks, uncertainties and other factors that may cause the Company's actual results, performance, prospects or opportunities to differ materially from those expressed in, or implied by, these forward-looking statements. These risks include, without limitation, risks related to: the termination, non-renewal of or default under of any current or new wholesale contracts; changes in the global economy; a failure to negotiate new customer contracts; changes in legislation or the interpretation thereof, particularly in the telecommunications industry. Forward-looking statements are any statements other than statements of historical fact. The use of any "plan" "expect " "project" "believe" "should" "anticipate" or other similar words or statements that certain events "may" or "will" occur are intended to identify forward-looking statements. In particular, forward-looking statements included in the press release include, without limitation, statements regarding: the impact of the new voice traffic contracts; timing and completion of the transition of new voice traffic; the sustainability of the new revenue stream; increased leverage with suppliers; additional deals currently being worked on and the impact thereof; and negotiations relating to potential new customers. The forward-looking-statements contained herein are based on certain assumptions including, without limitation, assumptions regarding: global economic conditions; changes in laws and regulations; the impact of Virtutone's new contracts; the market for wholesale telephony services; the maintenance of new and current wholesale contracts; and the ability to add new wholesale clients. Although management believes the expectations reflected in the forward-looking statements contained herein are reasonable, no assurances can be given that any of the events anticipated in forward-looking statements will occur, or, if they do, what benefits Virtutone will derive therefrom. As such readers are cautioned not to place undue reliance on forward-looking statements, which are effective only as of the date of this document or as of the date otherwise specifically indicated herein. Virtutone assumes no obligation to update forward-looking statements, except as required by applicable law. The historical revenue numbers for the new wholesale contracts do not represent estimates of future revenues to be received by the Company. As these contracts do not contain any minimum traffic requirements, revenue generated on such contracts will vary from month to month, and such variations may be material. The Company cannot provide any assurances as to the revenues to be generated by such contracts once the transition is complete.
Neither the TSX Venture Exchange nor its Regulation Service Provider (as that term is defined in the policies of the TSX Venture Exchange) accepts responsibility for the adequacy or accuracy of this release.
Tags: #smallcapstocks, $TSXV, foip, voip