A newly discovered gold zone on Treaty Creek in BC's Golden Triangle has potential to become a world class multi-million-ounce open pit gold resource with higher gold grades and considerably better logistics than Seabridge's adjoining KSM deposits (the largest undeveloped Gold deposit in the world by reserves). This new zone which already holds potential for millions of close to surface ounces prior to the soon to commence 2019 drill program is called the Goldstorm!
American Creek Resources ("AMK") holds a Joint Venture with Tudor Gold (operator) whose CEO, Walter Storm, was an integral part of Osisko's development and sale of its Canadian Malartic gold mine ($3.9 billion). AMK holds a 20% FULLY CARRIED INTEREST (free ride) meaning AMK is not required to contribute toward exploration and development until a production notice is given.
Ken Konkin, former head geologist for Pretivm who developed the nearby high-grade Brucejack mine (production in 2017), was recently retained to head the geological team at Treaty Creek as he knows the Sulphurets Hydrothermal System (which hosts Treaty Creek – Goldstorm, KSM, and the Brucejack) intimately. His objective of developing an open pit gold mine with excellent logistics is a huge game changer and has the potential to make the Goldstorm at Treaty Creek one of the most sought-after properties in Canada.
A new report on the potential of the Goldstorm is required reading for all AMK shareholders and potential investors (click image below):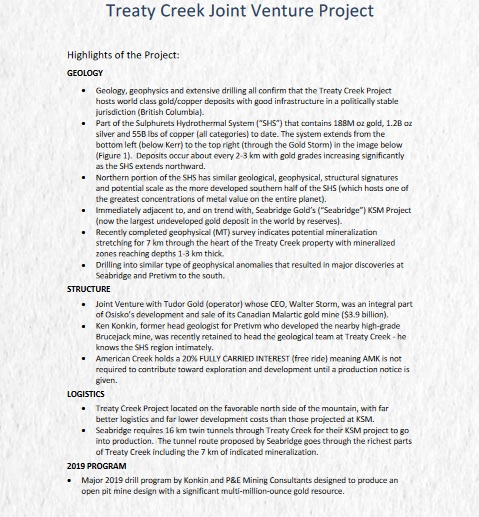 A major Goldstorm drill program designed to reveal just how massive this newly discovered deposit may be will be underway shortly. The initial phase of the 2019 Treaty Creek drill program can be viewed here (click image below):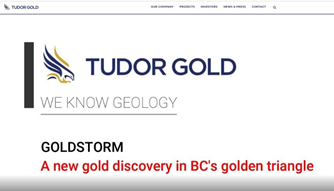 Once you've read the report and watched the video, we ask that you then do two things:
Phone our office (403-752-4040) and ask questions to help you understand the incredible potential with the new developments and direction that's being taken.
Share this email with your friends and associates. If you have a broker…send it to him. If you follow an analyst or industry letter writer…send it to them.
Thank you for taking the time to review this important document and we look forward to discussing with you on the phone soon!
If you are new to American Creek Resources you can also view the company presentation below:
If for some reason the links on the images did not work you can use the following URLs: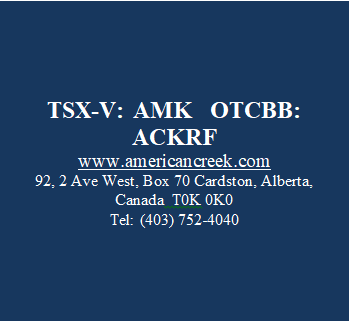 Tags: #Discovery, #goldentriangle, #Goldrush, #KenKonkin, #Porphry, #Pretvium, #TreatyCreek, #Tudor, $AMK, gold