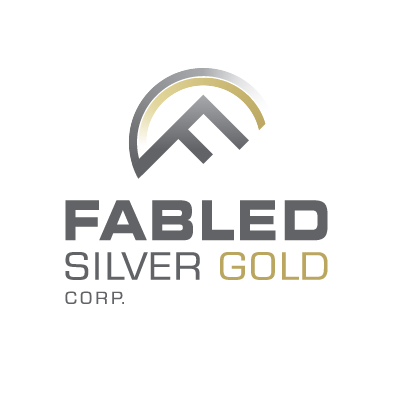 Fabled Silver Gold Corp. (TSXV: FCO) (FSE: 7NQ) ("Fabled" or the "Company") is pleased to announce initial diamond drill results from the on-going 8,000-meter drill program on the Santa Maria Property in Parral, Mexico, with assays from two additional holes pending.
Peter J. Hawley, CEO and President remarks, "We are quite excited with the results from our first drill hole drilled to the east of the last underground workings and the exceptional wide intersection of 68.6 meters of continuous silver in shallow oxide mineralization. Within this broad zone, 20 meters reported 0.35 g/t Au, 106.29 g/t Ag and within this 20 meters, widths grading 146 g/t Ag, 238 g/t Ag and 151 g/t Ag were intersected (See Table 1 for widths and values). Drill holes SM20-02 and SM20-03 are drilled on the same section with the target being the sulphide intercept of this broad hydrothermal breccia zone, which is typically higher in grade due to metal values not being leached out by surface ground waters as commonly seen in oxide zones. The data being obtained from this fence of drill holes will not only target adding silver ounces to the overall resource but also allow us to interpret and model the behavior of this robust mineralized system for future drill hole success."
Table 1: Drill Hole Intercepts
Hole No
From
(meters)
To (meters)
Width
(meters)
g/t Au
g/t Ag
SM20-001
78.40
147.00
68.60
0.18
43.98
Including
112.00
132.00
20.00
0.35
106.29
Including
115.00
117.00
2.00
0.27
146.00
Including
123.00
124.60
1.60
1.09
238.00
Including
124.60
126.50
1.90
0.34
151.00
Drill hole SM20-01 was drilled at an angle of -45 degrees for a total hole depth of 164 meters. Drill hole SM20-02 was drilled at -65 degrees from the same station for a total hole depth and drill hole SM20-03 was stationed 75 meters behind the drill station for holes 01-02 and drilled at an angle of -75 degrees for a total depth of 375 meters.
Read More: https://agoracom.com/ir/FabledSilverGold/forums/discussion/topics/753841-fabled-drills-68-6-meters-of-continuous-silver-mineralization-in-initial-drilling-at-santa-maria/messages/2300012#message
Tags: Discovery, Drilling, Epithermal, gold, Mexico, Peter Hawley, silver, tsx-v