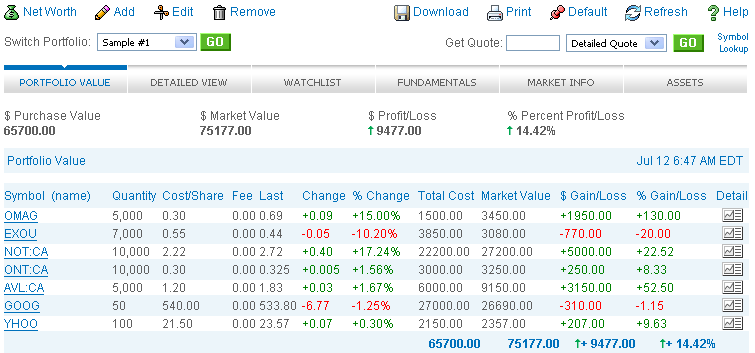 [PLEASE CLICK ON IMAGE TO SEE CLEAN, FULL SCREEN VERSION]
Dear AGORACOMers, with sky-rocketing traffic numbers and member satisfaction with our "Investor Controlled Forums" model, we are very happy to announce the official launch of member portfolios. We're extremely happy with it. Very intuitive, clean and, most important, provides the ability to view your performance from many different angles.
It even allows you to track your overall net worth by adding in the value of non-stock assets such as bonds, your home, insurance policies, etc.
Response has been great so far, with members already calling for contests! Yep, you can count on one sometime soon. We just want to make sure any little bugs are ironed out, if any.
Thanks to all of our amazing members and clients for making AGORACOM the best small-cap and micro-cap community on the web. In return, we promise to keep providing amazing new tools and updates.
Have a great weekend.
Regards,
George, Paul and the AGORACOM Team