The shareholder revolt at Aurelian Resources is picking up an incredible amount of steam, with Peter Koven at the Financial Post covering the story today. Here is a snapshot of the story, which is a great read: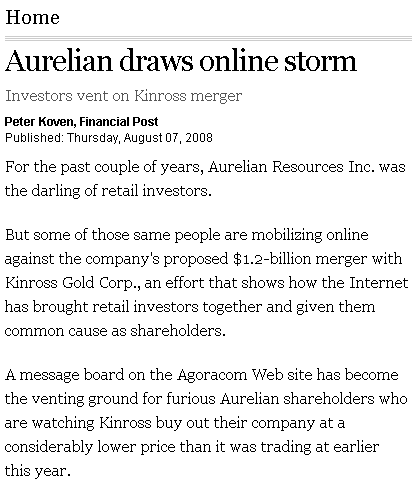 …….continue reading full story here.
Hats off to Peter and FP for covering the importance of this story and the important role of online shareholder communities. Until AGORACOM came along, online stock discussion forums were overrun by spam, profanity, bashing, hyping and flaming. Our Web 2.0 model of combining a reputation system with Wiki and IGC tools (Investor Generated Content) has eliminated 95% of the noise while maximizing constructive and informative discussion.
Hats off to Aurelian shareholders for showing the world how a stock discussion community can be used to enrich investors.
Regards,
George