The Web 2.0 Aurelian Resources shareholder revolt against a "friendly" takeover bid by Kinross Gold has generated more than 580,000 page views over the past 30 days on the company's HUB on AGORACOM.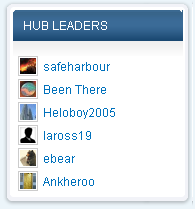 Shareholders, led by these 6 HUB Leaders, have used the HUB to amalgamate, discuss and execute a strategy to vote down the bid, including submitting thousands of e-mail messages, telephone calls and letters to management, directors, media, analysts, bloggers, securities regulators and even other potential suitors.
The campaign has been a massive success and perhaps the best example of Web 2.0 Canadian shareholder activism with coverage from the likes of The Financial Post, Calgary Herald and Montreal Gazette.
Now, in response to this piece of advice from yours truly, Aurelian shareholders have taken their message to
YouTube. A shareholder by the name of Bob and better known as HUB Leader Heloboy2005, posted what I can only describe as a fantastic 9-minute video statement on behalf of the activist group.
As further evidence this revolt is far beyond a mere fringe group of investors, the video has been viewed 728 times in less than 2 days. Add that to the 580,000 + page views on the Aurelian HUB over the past 30 days and you have a serious group of motivated investors.
The video first outlines all shareholder concerns relating to the deal, including a strong argument for its weak valuation. More importantly, however, it calls out management and the board for what appears to be major potential improprieties, including the granting of more than 2.4 million options to board members only 5 days before JV discussions with Kinross began.
Bob ends the video by challenging President and CEO, Patrick Anderson, to visit the Aurelian HUB on AGORACOM and answer a list of more than 22 questions compiled and posted by the entire group of shareholders.
Will he take up the challenge? There is no doubt in my mind that he now needs to. He doesn't have to do it on AGORACOM but he definitely needs to address these concerns via a statement of some kind.
In the meantime Mr. Anderson, if you haven't seen the video, enjoy the following:
Regards,
George