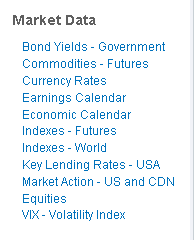 Markets have been so crazy lately that I found myself constantly hopping between critical market data points (several times per day) to try and make sense of things.
It then dawned on me that many of you are probably going through the same experience, while others probably don't know where to start looking.
As such, I've now added the following critical market data links to this blog.  You can find them in the right hand margin.
Take a minute to go through them and let me know if there are any others I may have missed.  Remember, we're talking about market data and not niche data for every industry on the planet.
Regards,
George