AGORACOM was once again a proud sponsor of the Reverse Merger Conference held this year at the Mandalay Bay Resort & Casino in Las Vegas, June 11 & 12.  I didn't have time to blog from the conference but I did manage to post some useful information via Twitter that you can see here.
Perhaps the most important tweet was my very first one where I stated as follows: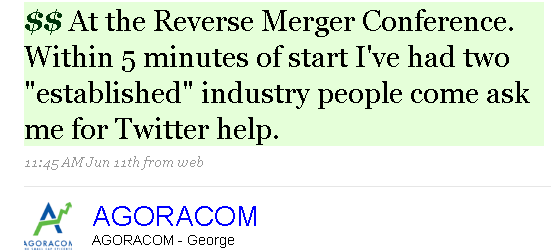 It signaled to me that Web 2.0 had finally begun its penetration into the world of Reverse Mergers and small-cap investment banking.  It was also quite timely given the fact I was presenting the Web / Online Investor Relations Speaker Workshop called, ""SEC Greenlights Blogs, Twitter and RSS Feeds For Investor Relations…But What Are They?"
The workshop was the initial step in teaching bankers, fund managers and public companies about the advantages of  incorporating social media into their intelligence gathering to cut through clutter, get the information they need and connect with the smartest people on the planet.
Despite the fact it was the last presentation before lunch, the room was pretty full and – more importantly – alive with audience participation.  In order to avoid the "he's the internet guy and I could never do what he does" syndrome,  I brought industry stalwart and early Web 2.0 adopter David Feldman of the Reverse Merger & SPAC Blog.  David discussed his overwhelmingly positive blogging experience, which opened up the floor to some great questions from the audience.
It was so well received that I am going to publish a webcast of the keynote and re-broadcast it here as soon as the good people from DealFlow Media send over the audio files.  In addition, I am also going to produce a series of short videos on iGoogle, Twitter, Blogs and RSS Feeds.
THE CONFERENCE
Overall it was an excellent conference despite the fact attendance was down due to market conditions.  Personally I didn't mind it because it served to eliminate the weak players in the space and gave everyone in attendance more time to network with the best of the best.  Naturally, I'd prefer a bigger, more robust audience as a result of a healthy marketplace but the occasional quality over quantity dynamic does not hurt.
Look for those videos to begin in the next 10 days or so.  In the meantime, for those of you that have not seen my previous keynotes at DealFlow Media events over the past 3 years, you can watch my previous presentations using the following links:
PIPEs Conference 2006 – E-Mail Is Dead. How To Conduct Great IR In A Web 2.0 World
PIPEs Conference 2007 – How To Use The Web To Find New Investors And Turn Them Into An IR Machine
PIPEs Conference 2008 – Best IR Practices During Market Turmoil
Regards,
George