As we head into our first ever Online Gold & Commodities Conference, I'm happy to announce that AGORACOM traffic is gaining significant strength with some huge traffic numbers for the month (October 25 – November 25, 2009).  These numbers are significantly stronger than the last 30 day report I put out, in which we generated 7.9 million pages from 131,500 visitors.  Awesome numbers at the time – but dwarfed by today's numbers:
141,943 investors visited AGORACOM. Â This is the equivalent of selling out 7 NHL/NBA stadiums in 30 days
They visited 818,172 times
They read 8.56 million pages of information
Here is a snapshot of our Google Analytics summary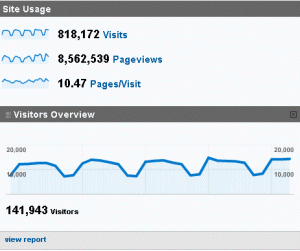 BUILT-IN AUDIENCE FOR COMPANIES PRESENTING AT OUR ONLINE CONFERENCES
Remember, what is especially impressive about these numbers is that fact that we clean 98% of the garbage posts found on other discussion forums. Â As such, this is pure investor traffic and a great example of quality over quantity.
In addition, AGORACOM is highly focused on the small-cap space, making this is a powerful targeted community of investors with substantial appeal to small-cap companies. Â This bodes well for our upcoming AGORACOM Online Gold & Commodities Conference, as well as, future conferences we are planning for 2010.
If you are a public company deciding on your conference strategy for 2010, AGORACOM brings a combination of a huge built-in, targeted audience and proven technology that has not been duplicated by other online conference providers.
Regards,
George