THIS PRESENTATION WILL GO LIVE ON THURSDAY, DECEMBER 3RD @ 1:00 PM EST.
Please find enclosed our lunch hour keynote presentation for The AGORACOM Online Gold & Commodities Conference. Eric Coffin, Co-Producer of The Hard Rock Analyst Publications, delivers a fantastic presentation titled "Interest Rates and Currencies Driving Metals Markets".  During his presentation, Eric efficiently covers the reasons behind our global economic issues but – more importantly – spends most of his time answering the biggest question on all our minds … "so now what?".
His methodical, detailed yet layman appealing presentation illustrates exactly why Coffin and his brother were awarded the Cambridge House Award for Market Analysis in 2007.
Please click on the image below to launch the presentation in a new browser window. The presentation will not launch prior to 1:00 PM EST. Upon completion of the interview, close the window and return here to post your questions and comments. To do so, please click on the "Comments" button at the bottom of this post.
CONFERENCE LINKS: Home Page — Presenting Companies — Keynote Speakers — Conference Schedule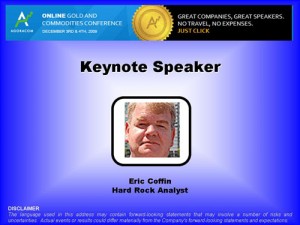 BACKUP LINK IN CASE OF BANDWIDTH ISSUES (CLICK HERE)
PROFILE
Responsible for the "financial analysis" side of HRA, Eric has a degree in Corporate and Investment Finance. He has extensive experience in merger and acquisitions and small company financing and promotion. For many years he tracked the financial performance and funding of all exchange listed Canadian mining companies and has helped with the formation of several successful exploration ventures.
Eric Coffin is one of the most respected resource market commentators in the industry. Eric and his brother David produce the Hard Rock Analyst publications, newsletters that focus on metals explorers, developers and producers as well as metals and equity markets in general.
Eric reviews data from hundreds of companies seeking strong management and finance teams in undiscovered companies for HRA's readers. In 2007, they were awarded the Cambridge House Award for Market Analysis.
Eric has been interviewed on CBC Television's Business News, as well as, national and local radio throughout North America for his opinions on resource trends. He is a frequent contributor to several third party publications and a number of resource, gold, metals and market related Internet sites.
He regularly speaks at a number of North American gold and resource conferences. He was one of the first analysts to point out the disastrous effects of gold hedging and gold loan capital financing (1997) and to predict the start of the current secular bull market in commodities based on the movement of the US Dollar (2001) and the acceleration of growth in Asia and India.
Regards,
George
AGORACOM+Online+Conference Peter+Grandich small+cap+stocks small-cap+stocks online+investor+relations electronic+shareholder+forums gold gold+stocks oil+oil+stocks base+metals copper financial+crisis junior+resource+stocks junior+mining+stocks