THIS PRESENTATION WILL GO LIVE ON FRIDAY, DECEMBER 4TH @ 1:30 PM EST.
Please find enclosed our anchor leg keynote presentation at the AGORACOM Online Gold & Commodities Conference. The anchor leg of any team is always reserved for the strongest, fastest member.  As such, it is only fitting that Barry Rithlotz, voted the world's top financial blogger in 2008, takes us home.
I've covered Barry extensively on the AGORACOM blog for reasons that are clearly obvious to his global following of investors. Â For those of you that haven't discovered Barry yet, the best way to describe him comes from a line I wrote in December 2008:
Barry Ritholtz is the Will Hunting of Wall Street – a down to earth guy who is "wicked smawt".
Ironically enough, that was the post in which Barry proclaimed "Gold Has A Date With $1,500 Somewhere In The Future" – and here we are 12 months later with gold sitting at or just below all-time highs.
Today, Barry sits down with me to discuss the critical question on the minds of all investors .. "Where Do We Go From Here?". To get to that answer, Ritholtz shares his views on the following:
Why we simply should have said "Fuck You" to insolvent banks
How Bush started and Obama mistakenly continued the greatest transfer of wealth in the history of the planet
The FDIC and the Swedish model
3 big and

non-obvious reasons

that puts the wind at gold's back.
Stock market is up? Who cares! "What the hell do the markets have to do with the economy?" Ask Japan.
Why oil and other $USD priced commodities are going higher – but foreigners beware of real returns
Canada – a great place to invest and gain exposure to commodities
The $USD – encouraging a "race to the bottom" amongst global currencies, counter-trend rally, then another leg down
US equities – impossible to short stocks in this quantitative easing environment
The parallels to 1973-74 and the start of the next secular bull market
Gold – $1,350 and $1,525 targets, then probably goes to its inflation adjusted high
Ritholtz, as always, takes the no nonsense but supremely intelligent approach to economic analysis that we only wish our financial leaders would apply when governing. Â Given the fact his firm manages money for some pretty high-net worth individuals and organizations, any opportunity to tap into his brain for free is a golden one.
Please click on the image below to launch the presentation in a new browser window. The presentation will not launch prior to 1:30 PM EST. Upon completion of the interview, close the window and return here to post your questions and comments. To do so, please click on the "Comments" button at the bottom of this post.
CONFERENCE LINKS: Home Page — Presenting Companies — Keynote Speakers — Conference Schedule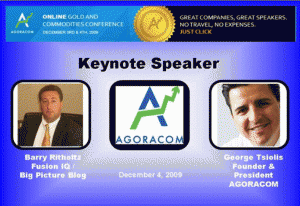 BACKUP LINK IN CASE OF BANDWIDTH ISSUES (CLICK HERE)
PROFILE
A frequent commentator on economic data and financial markets, Barry L. Ritholtz is a regular guest on CNBC, Bloomberg, Fox, CNN, ABC, CBS, PBS, MSNBC, and C/SPAN. He has appeared on many shows, including Nightline, ABC World News Tonight, Fast Money, Kudlow & Co, and Power Lunch, and has guest-hosted Squawk Box on numerous occasions.
His market perspectives are quoted regularly in the New York Times, Wall Street Journal, Barron's, Forbes, Fortune, Smart Money, Kiplingers, and many other print media.
Beyond his commentary and published articles, Mr. Ritholtz also authors The Big Picture a leading financial blog that has quickly amassed over 50 million visitors and was named as one of the Top 3 Business Blogs in the world. Media accolades include the WSJ ("What the In-Crowd Knows"), which it cited his blog as the Economic "Blog Insiders Read to Stay Current;" Business Week noted its "insightful calls on the direction of the stock market" (Blogging For Dollars). CNBC's Larry Kudlow described it as "very helpful and addictive — the best stock market blog there is."
In his day job, Mr. Ritholtz is CEO and Director of Equity Research at Fusion IQ, an online quantitative research firm. The firm makes its institutional strength number crunching available to individual traders and investors. This marks the first time an institutional grade quant research product is available to the public at an affordable price.
Mr. Ritholtz is the author of the book Bailout Nation, published by Wiley & Co. summer 2009. It has become the best reviewed book on the bailouts to date. Accolades include The New York Times, The Wall Street Journal and Bloomberg.
You can follow his free public commentary via his blog
Regards,
GeorgeARACOM+Online+Conference Peter+Grandich small+cap+stocks small-cap+stocks online+investor+relations electronic+shareholder+forums gold gold+stocks oil+oil+stocks base+metals copper financial+crisis junior+resource+stocks junior+mining+stocks