Alexa, an Amazon company, is the leading free provider of global web metrics. Â The company measures traffic on over 30,000,000 (million) websites from 125 countries around the world and ranks them in order of global ranking. Â Like golf, the lower your score the better.
I'm happy to announce that AGORACOM recently touched a ranking of 50,000 on April 12th. Â To truly make that number stick, you want to see that number show up in any of your 7-day / 1 month / 3 month ranking, where AGORACOM still comes in around 70,000 or in the top 0.23% of all websites on the planet. Â These climbing figures are in line with our Q1 traffic announced via e-mail last week and soon to be posted here for all to see.
In the meantime, here is a snapshot of our Alexa ranking.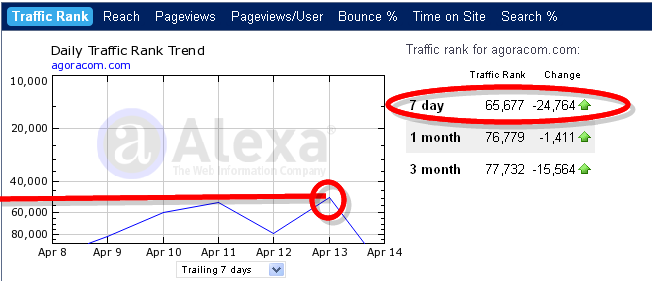 We're extremely happy with this accomplishment, which serves as further evidence that our "Investor Controlled" stock discussion format is a winning model. Â We want to thank all of our members and clients for helping make AGORACOM the leading online small-cap community! Â I promise all of you, the best is yet to come.
Regards,
George