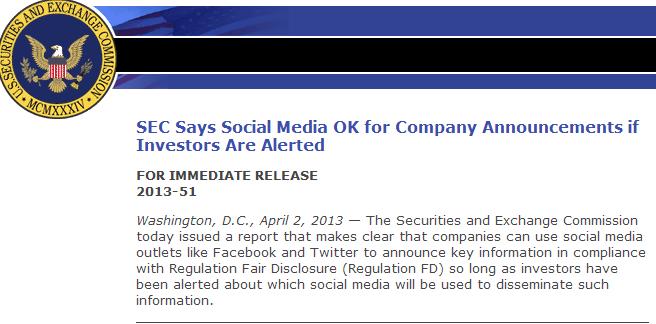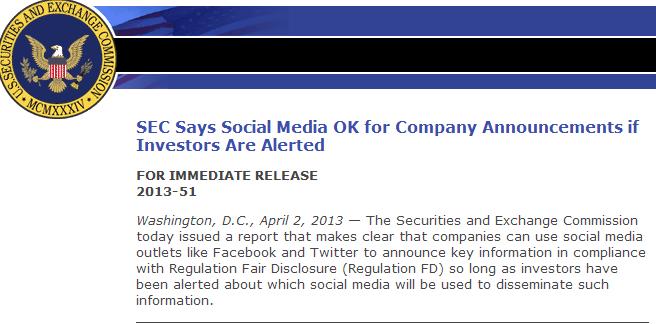 This is simply big – and long overdue – Â news out of the SEC last night. Â In 2008, the SEC allowed companies to use their websites to conduct investor relations and make disclosure. Â As of today, companies can now use social media sites to conduct investor relations, including the release of material news, data and information.
WHY IS THIS SO IMPORTANT FOR US SMALL CAP COMPANIES?
1.  Freedom To Communicate And Create Real Conversations With Investors – Until yesterday, small-cap CEO's couldn't say a thing about their businesses without consulting lawyers, their board and anybody else in the compliance process.  This made it extremely difficult – actually impossible – for small-cap companies to release any new information via anything but a press release, especially those small but important tidbits of information that didn't warrant the expense of a press release.
For example, this specific decision arose from an incident that occurred last summer when NetFlix CEO, Reed Hastings, posted to Facebook that NetFlix had exceeded 1 billion hours in a month for the first time. Â It was an important milestone that Hastings wanted investors to know about – but not necessarily something that warranted a press release or SEC filing.
The SEC took exception and opened an investigation in whether or not this violated selective disclosure rules.
However, as a result of this decision, the SEC now agrees that release of such information via social media sites is sufficient. Â The only requirement is that all companies must make it clear to investors that they plan to use a particular social media site (i.e. AGORACOM).
In the case of AGORACOM, all clients issue press releases announcing the launch of their online IR community. Â Until yesterday, those IR communities were used to post press releases and then answer questions from shareholders. NOW, small-cap executives can make a major leap forward by actually posting helpful information and data to help investors better understand their company and progress.
For example, a small-cap executive at a trade show can now go back to their hotel room and post an overview of the day including the number of visitors to their booth, product feedback, etc. Moreover, small cap companies can now provide regular updates on previously announced or brand new initiatives. Â The possibilities are endless. Â The most important thing is such disclosure can now lead to real conversations with investors that extend well beyond big material news.
This is critical for small-cap companies that typically don't have or can't afford a plethora of press releases and want to fill the information gaps with shareholders.
2. Â Significant Savings – In the sentence above, I touched on the fact that most small-cap companies simply can't afford a plethora of press releases. Â As such, they are forced to release only the biggest, most important news, which significantly limited their frequency of communication with investors. Â The only option was to issue more press releases and spend more $$. Â With this new SEC decision, this is no longer an issue.
Moreover, small cap companies were often forced to issue "kitchen sink" press releases because they would piggyback smaller tidbits of information and updates with material press releases. Â I don't have to tell you how that causes expenses to skyrocket when you are being charged by the word.
3. Â Size Doesn't Matter – It doesn't matter if your online shareholder audience is 200,000 or 200. Â As long as you've clearly told investors where to look for your information, you're good to go.
4.  Social Media vs Your Website – Investors simply don't have time to navigate to every website of companies they're either invested in, or interested in.  They overwhelmingly prefer financial communities such as AGORACOM, or even non-financial communities such as Twitter where all information is available under one roof.   Thanks to this decision, small-cap companies can now meet investors where they exist, rather than forcing them to visit stand alone websites that rarely change with the exception of new press releases.
CONCLUSION
This is a great day for small-cap companies and investors that want to truly engage in meaningful discussions without having to worry about disclosure rules and expenses. Â To be clear, you are still going to issue important, material press releases by press release.
However, much like the NetFlix example above, it is all those valuable morsels and tidbits of information that can now finally be set free to open the lines of communications with current and prospective investors.
"Great day" is actually an understatement. Â It is more accurate to say this day is monumental, even epic for small-cap investor relations.
To discuss this post and your next investor relations steps, contact me right now.
Regards,
George Tsiolis, Founder
AGOARCOM