If you were surprised by Janet Yellen and the US Federal Reserve back tracking on their interest rate hiking policy on Wednesday, you shouldn't have been … not if you've been following AGORACOM. See my track record of calls following this commentary.
The real question is, where to from here? Â The answers are as follows:
1.  If left to the US Federal Reserve, they simply don't have the data to back up their talk of meaningful interest rate hikes.  They've already raised rates .25% on the premise that "we're no longer in the financial crisis of 2008" … but what they fail to understand OR admit is that we're not in 2008 due to extraordinary measures of Central Banks around the world.  Take those away and we're right back in the rabbit hole.  As such, the Fed may raise another .25% later this year just to save face – but that's it.
2.  If left to Treasury / Bond investors, the following picture speaks 1,000 words … or 100 basis points.  Take a look at the 10-Year yields of nations immediately above and below the United States.  Which way do you think they're going to go?  Personally speaking, 1.87% looks pretty fat relatively speaking.  Especially on a risk-reward basis where I could only do better if I take on the risk of China and Portugal in a blend with Australia and New Zealand.  No, thanks.  I would be buying the US 10-Year all day long …. and that means lower yields.
Conclusion – if Janet and the Fed fail to maintain their new hike schedule in 2016, the US 10-Year falls to 1.00% on a bullet.  In the meantime, you've got to be bullish precious metals, commodities and small cap resource stocks, bearish $USD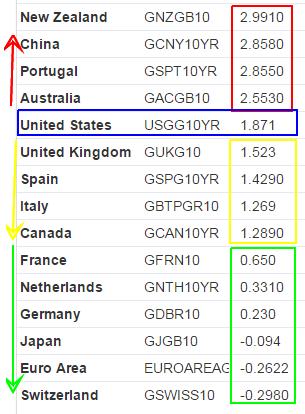 Do I know what the hell I'm talking about? Â Am I playing armchair quarterback? Flux capacitor analyst? Â Not a chance. Â Here are approximately 20 consistent calls we've made on the direction of interest rates and US Treasuries since September 2012.
SEPTEMBER 2012
My QE stronger than your QE … Japan announces $1 Trillion stimulus on heels of US QE. 10-year bond yields 0.78%. Where US is headed $$

— AGORACOM – George (@AGORACOM) September 19, 2012
AUGUST 2014
Can anybody make an argument for US NOT being in ZIRP for next decade? Sovereign debt around the planet not going away soon = Japan 4 all $$ — AGORACOM – George (@AGORACOM) September 19, 2012
US 10 year won't have much choice … look for yields to keep dropping RT @zerohedge: Bund 0.97%

— AGORACOM – George (@AGORACOM) August 15, 2014
NOVEMBER 2012
Romney can squawk about Bernanke all he wants, he can`t afford higher rates brought by a new hawkish Fed Governor. Debt $$ = ZIRP til 2017 — AGORACOM – George (@AGORACOM) November 1, 2012
APRIL 2013
Time for my monthly confirmation – sponsored by Japan – that #ZIRP is here to stay until 2020. Unless bond markets decide to enslave us all

— AGORACOM – George (@AGORACOM) April 9, 2013
OCTOBER 2013
ZIRP 2020 …. Pimco Bill Gross doesn't see US Fed raising rates until at least 2016. I still maintain nothing meaningful until 2020 — AGORACOM – George (@AGORACOM) October 2, 2013
SEPTEMBER 2014
US yield will collapse "@StockTwits: 10-year yields around the world:

Japan 0.49%
Germany 0.89%
France 1.25%
USA 2.34%

— AGORACOM – George (@AGORACOM) September 2, 2014
OCTOBER 2014
You're Welcome. 2.05% RT @AGORACOM: US 10 Year Under 2.4% to 2.38% … Real test is break under 2.3%. In my books, this is inevitable $TLT — AGORACOM SmallCap TV (@SmallCapTV) October 15, 2014
DECEMBER 2014
US 10 Year 2.15%. It will break 2 and stay there. Take that to the bank

— AGORACOM – George (@AGORACOM) December 1, 2014
JANUARY 2015
US 10 Year STILL too high. This divergence simply can't exist. Market will keep chasing US yield = lower yield pic.twitter.com/ZlOW6MbN6i — AGORACOM – George (@AGORACOM) January 6, 2015
US 10 year 1.93% … going lower throughout 2015. US Fed chatting interest rate hikes is comical

— AGORACOM – George (@AGORACOM) January 12, 2015
FEBRUARY 2015
All due respect to Vanguard, how does US 10 Year rise to 2.5% in 2015 with this global yield picture? pic.twitter.com/cHbmIZEpUh — AGORACOM – George (@AGORACOM) February 3, 2015
Janet Yellen and the Fed backtracked as much as possible today … but 10 Year yield back to 2.01 tells you all you need to know ZIRP NIRP

— AGORACOM – George (@AGORACOM) February 24, 2015
MAY 2015
US 10-year at 2.19% … get ready to go long treasury ETF's shortly — AGORACOM – George (@AGORACOM) May 5, 2015
AUGUST 2015
Janet Yellen & Fed are absolutely perplexed today. Have no reason to raise rates. Check mated. If they don't, gold goes boom, $USD craahes

— AGORACOM – George (@AGORACOM) August 11, 2015
OCTOBER 2015
10 year yield 1.94%…. ZIRP TO NIRP 2020 How could Janet and The Fed be so wrong, when so many majors are laying off En Masse? — AGORACOM – George (@AGORACOM) October 2, 2015
A search for "Mark Carney Moron" (former Bank of Canada Governor) still has us as #1https://t.co/UytBI7Nv6o

You can't cheerlead % hikes

— AGORACOM – George (@AGORACOM) August 24, 2015
JANUARY 2016
US 10 year bond yield now below 2%. Janet Yellen and Goldman Sachs seen embracing in a sobbing hug

— AGORACOM – George (@AGORACOM) January 20, 2016
FEBRUARY 2016
10 Year Yield now 1.66% ,,, and I've told you this since 2.8% … it is going lower. US yields too high relative to G8. ZIRP NIRP

— AGORACOM – George (@AGORACOM) February 24, 2016
MARCH 2016
Janet Yellen gives TSX Venture a gift… But you would have known that if you followed AGORACOM. Gold goes boom $GLD $NUGT

— AGORACOM – George (@AGORACOM) March 16, 2016