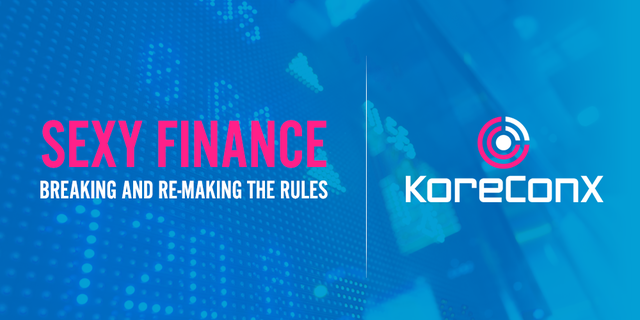 By: Darcy Brooks
Director Marketing and Communications | KoreConX
I'm not a natural fit for finance.
I never liked math, thought banks were boring places to work, slow-moving and conservative institutions, and while money may rule the world, I had little interest in it.  But much has changed for me and for finance over the last few years.  We've come together, somehow.
This week, I attended the FundIt Crowdfunding Conference in Las Vegas, to learn about regulatory compliance in equity crowdfunding, of all things, and I saw first hand how old-world financial regulations give way to, control, and accommodate technology, and how they don't.
We were there to discuss Title III, Title IV crowdfunding rules, marketing, compliance, and technology, and everyone who's currently anyone in the industry was there.  Douglas Ellenoff and Richard Swart each delivered keynote addresses, talking about how it all came about, where we are as an industry, and how far we still have to go.  Our CEO, Oscar Jofre, sat on two panels, alongside iDisclose's Georgia Quinn.
A conference hall full of industry experts left galvanized and far better informed, but we missed one key player: the equity crowdfunding portals that will need to put these regulations into regular practice, and plan to operate under Title III Crowdfunding.  The rules are confusing even to those that have been around the JOBS Act for years, and if the industry's newest players aren't equipped to get it right, it means big scrutiny, and even curtailed growth for the equity crowdfunding industry as a whole. So where are they?
I think the entrepreneurial mindset plays a role. Being willing to break and bend the rules has been a mainstay of successful entrepreneurs.  Consider Uber, AirBnB and the complete paradigm shifts in finance that gave birth to equity crowdfunding, peer-to-peer lending and the like.  Technology changed regulation.  So how does an industry founded on rule-changing ensure that everyone is walking in lock step, and that no issues arise from a lack of awareness of exactly what's required?
FundIt Crowdfunding Conference was a large step in the right direction, and I have to applaud the organizers for their foresight, but more initiatives in a similar vein are clearly needed.  We need to make compliance sexy, or at the very least, clear and easy.  This is no small feat (even the regulators were a little confused at times).
This was the first of what I think will be many events to focus on "crowd diligence", and the burden of education is a heavy one.  It was extremely timely.  When Title III goes live May 16th, the industry needs to have its marching orders straight.
I think we need to treat this first discussion of "crowd diligence" as the first vibrations in what has to be a ripple effect.
I came by an interest in fintech and equity crowdfunding through immersion – I jumped off the deep end into subject matter I knew little about, and resurfaced with hope for the success and the potential of the big ideas of the future.  I'm an idealist, and alternative finance sounded so empowering.  It meant a paradigm shift in how we think about money.  I'm constantly reminded of something a professor of mine once said, that "money is the most concentrated form of human energy".  Pure motive force.  I've been fascinated by startup culture from the beginning, and the equity crowdfunding reeked of immense potential.
This is what made finance sexy to me.  It may be the most truly democratic idea I've ever come across.  After all, money is money no matter where it came from, and we're all voting with it.
Regulations are never perfect, but they are there to keep things moving forward and minimize the bumps in the road.  I can't speak to where these new market entrants are coming from – business, finance, entrepreneurship, or some combination thereof – but I think we've taken steps towards becoming evangelists for both sides of the equity crowdfunding coin; innovation and regulation.
We've had the first industry "crowd diligence" conversation, but we need to keep talking.
Tags: KoreConx