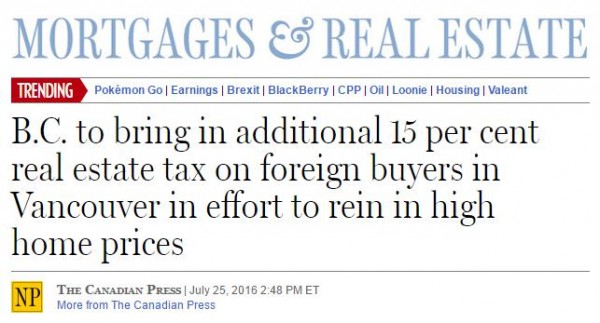 I had to read the headlines multiple times. Â At first, I thought the British Columbia government was simply increase land transfer tax fees to foreign buyers by 15%, so if LTT on a $2,000,000 home was $40,000 (for example), a foreign buyer would pay $46,000. Â That isn't so bad. Â Jack up foreign buyers by an amount that wouldn't hurt them too much, while adding significant $$ to the government coffers …….. because there is no way you could seriously implement a 15% additional tax on the entire purchase of that same $2,000,000 ….. and then I read this:

WHAAAAAAAAAAAAAAAATTTTTTTTTTTTT?????????????????
The Province Of British Columbia just committed real estate suicide. If they expect foreign buyers to get jacked and say thank-you, they simply don't understand the world of global finance. Â Money is liquid and highly personal. Â When you tell money it's not wanted, it takes it very personally and quickly starts looking for another home (pardon the pun).
Add in the fact that 95% of foreign buyers are Chinese and that rule of thumb really kicks in. Â Why? Â Chinese people aren't stupid. Â They didn't build enormous wealth and survive for thousands of years by being stupid – especially when it comes to their money. Â When you tell them THEIRÂ real estate is going to cost 15% more than EVERYONE ELSE's real estate, they're out, gone, on a bullet.
WHAT WILL BE THE IMPACT OF THIS NEW 15% FOREIGNER LAND TRANSFER TAX
 Wave bye-bye to Chinese buyers.  Expect them to head for Toronto and California
A near instant liquidity freeze on Vancouver real estate – Â including DOMESTIC buyers who will have no appetite to buy into a frozen market.
A crash in Vancouver real estate prices … Â that will spread to all other surrounding municipalities. Â Why buy anywhere when you can wait and see what happens to previously untouchable real estate.
A hit to Canadian bank mortgage portfolios in the GVA (Greater Vancouver Area).
DECREASED real estate tax revenue for government coffers.
A simultaneous. massive boost to Toronto Real Estate prices
So sorry for all my friends in Vancouver … but a Vancouver Real Estate crash is now inevitable.
Tags: 15%, Land Transfer Tax, Toronto Real Estate, Vancouver, Vancouver Real Estate Crash