SPONSOR: Tartisan Nickel (TN:CSE) Kenbridge Property has a measured and indicated resource of 7.14 million tonnes at 0.62% nickel, 0.33% copper. Tartisan also has interests in Peru, including a 20 percent equity stake in Eloro Resources and 2 percent NSR in their La Victoria property. Click her for more information
Summary
Nickel spot prices were up sharply in July, and the LME inventory was lower and remains near a 7 year low.
Nickel market news – Forecasters are generally bullish on the outlook for nickel.
Nickel company news – Anglo American to return up to $1 billion to shareholders.
Matt Bohlsen Investment advisor, portfolio strategy, growth at reasonable price
Welcome to the nickel miners news for July. The past month saw nickel prices rise sharply and LME inventories fall again and remain near a ~7 year low. Most other base and EV metals declined but nickel is rising, most likely due to the very low inventory levels and strong demand boosted by the EV sector.
Nickel price news
As of July 25, the nickel spot price was US$6.35/lb, up sharply (13%) from US$5.62 last month.
The following charts show that the excess nickel inventories since 2013 have been worked off now and nickel prices are finally starting to respond higher. It may still take a few months to play out, but 2020 should be a good year for nickel (assuming China does ok).
On March 2018 I "Top 5 Nickel Miners To Consider Before The Nickel Boom" stating:
2016 was lithium's year, 2017 was cobalt's year, and 2018-2020 are likely to be nickel's years as nickel inventories decline and nickel prices finally start to rise. Strong Chinese and global stainless steel demand and ever increasing demand from electric vehicles [EVs] using higher nickel content batteries NMC (8:1:1).
Note: The US-China trade war has subdued China's growth and reduced sentiment, which has not helped nickel prices the past year.
Nickel spot prices – 5-year chart – USD 6.35/lb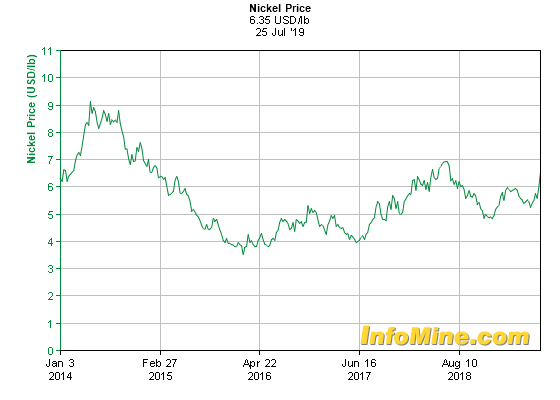 Source: InfoMine.com
Nickel 30 year price chart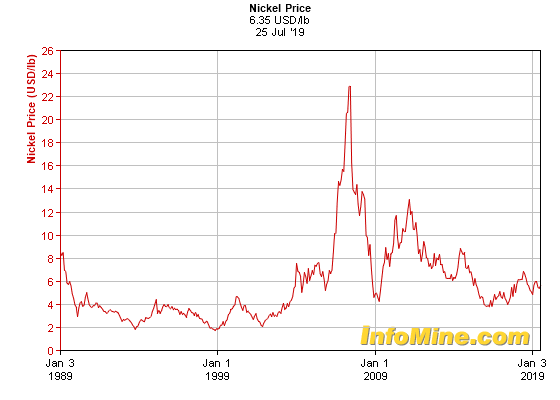 Source: InfoMine.com
London Metals Exchange [LME] nickel 5 year inventory
The chart below shows LME nickel inventory was lower in July at a ~7 year low.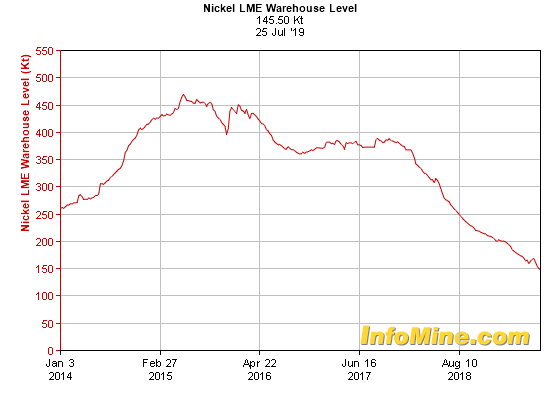 Source: InfoMine.com
10 year nickel inventory – Nickel at a ~7 year low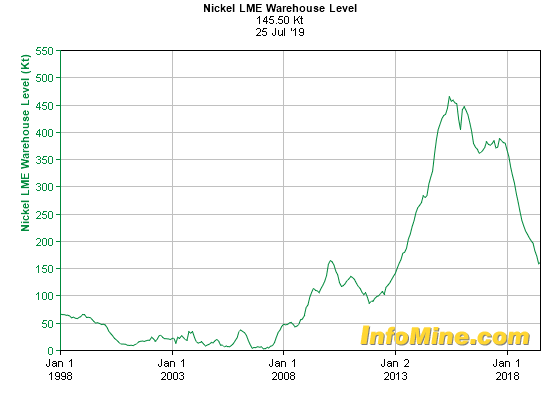 Source: InfoMine.com
Nickel demand v supply
The chart below shows nickel is forecast to be in deficit after ~2020-2022 (or at least require new supply to come online).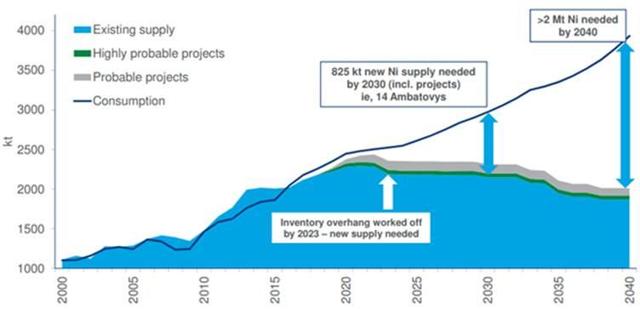 Source: Wood Mackenzie
Note: Some others such as BMI have been forecasting a nickel surplus by 2020 due to increased Indonesian production and reduced Asian demand.
As a reminder the November 2017 McKinsey report stated: "If annual electric vehicle [EV] production reaches 31 million vehicles by 2025 as expected then demand for high-purity class 1 nickel is likely to increase significantly from 33 Kt in 2017 to 570 Kt in 2025." That is a 17 fold increase in just 8 years, albeit only on Class 1 nickel.
Source: https://seekingalpha.com/article/4279565-nickel-monthly-news-month-july-2019
Tags: CSE, nickel, nickel demand, small cap stocks, stocks, tsx, tsx-v