SPONSOR: Tartisan Nickel (TN:CSE) Kenbridge Property has a measured and indicated resource of 7.14 million tonnes at 0.62% nickel, 0.33% copper. Tartisan also has interests in Peru, including a 20 percent equity stake in Eloro Resources and 2 percent NSR in their La Victoria property. Click her for more information
BHP confident nickel will surf EV wave better than lithium
BHP is optimistic about the decision to keep its Nickel West division and lean into the commodity to get a slice of the impending battery boom.
Speaking at the company's nickel refinery in Kwinana on Friday Nickel West asset president Eddy Haegel said the company reviewed battery materials such as lithium and cobalt but they weren't as attractive as nickel.
BHP Nickel West assett president Eddy Haegel.Credit:Hamish Hastie
"I think it would come as no great surprise that we didn't think that
was attractive … because 70 per cent of it comes out of Democratic Republic of Congo and we're not in a hurry to go and invest into DRC," he said.
"In the case of lithium, there's a lot of lithium in the world, it's a very widely available mineral. Advertisement
"There will be periods of time when supply and demand don't naturally match but we anticipate that there will be no sustainable premium in the lithium sector.
"Whereas we think that's not the case with nickel.
"We think that in the medium to longer term that there will be a margin that will be sticky for nickel, so we think that's an attractive commodity."
The sale or shutdown of Nickel West has been on the cards for nearly a decade but in May its future seemed secure within BHP after chief executive Andrew Mackenzie indicated it was a valuable asset with high growth potential.
In 2015 none of Nickel West's product went to the battery sector, now those customers gobble up 80 per cent of its output.
Nickel West is hedging its success on nickel sulphate, a crystalised version of nickel favoured by battery makers.
It is currently building a 100,000 tonnes per annum nickel sulphate plant in Kwinana, when it starts production next year it will be one of the biggest in the world.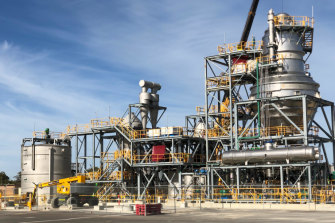 The new nickel sulphate plant.Credit:Hamish Hastie
The original cost of the plant was $62 million but Mr Haegel confirmed it was tracking above that.
He would not reveal how much the plant will cost now.
Nickel West is a major partner of the $135 million battery materials research centre based in Perth.
Mr Haegal said they would probably provide nickel sulphate to researchers for free so they can test how capable Australia is of making high value battery prescursor materials.
"We're really excited about the work that will get conducted in that space," he said.
Source: https://www.smh.com.au/business/companies/bhp-confident-nickel-will-surf-ev-wave-better-than-lithium-20190802-p52dem.html
Tags: CSE, nickel, nickel demand, small cap stocks, stocks, tsx, tsx-v