Launches Gratink, conductive inks and pastes
The inks and pastes (to the best of the Company's knowledge) are amongst the most conductive carbon inks and pastes currently available within the global market place.
The Gratink product is formulated specifically to meet the needs of the printed flexible electronics and EMI shielding markets
The Gratink and paste applications based on surface modified nano graphene "enablers" offer a product for market penetration into the information technology sector that is now an important aspect of our everyday life.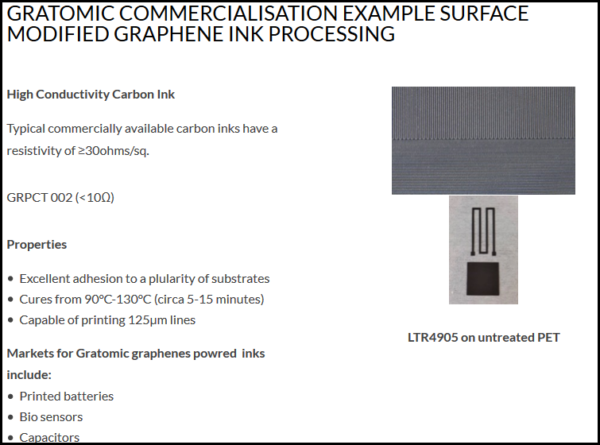 About Gratomic Inc.
Gratomic is an advanced material company focused on mine to market commercialization of graphite products, most notably high-value graphene-based components for a range of mass market products.
FULL DISCLOSURE: Gratomic is an advertising client of AGORA Internet Relations Corp.
Tags: #Commercialization, #Disruptive, #graphite, #GRAT, #Gratink, #Gratomic, #GUET, #MassMarket, #Mine, #Tire, Aukam, graphene