SPONSOR: Enthusiast Gaming Holdings Inc. (TSX-V: EGLX) Uniting gaming communities with 80 owned and affiliated websites, currently reaching over 75 million monthly visitors. The company exceeded 2018 target with $11.0 million in revenue. Learn More
What Role Does (and Will) Esports Play at Gamescom?
In the early 2010s, gamescom was a reliable proving ground for esports tournament brands.
Dota 2's inaugural edition of The International was held at the trade fair in 2011, with its $1.6M USD prize pool considered so large at the time that many wondered if it was a hoax.
The first-ever version of ESL One Cologne was held at gamescom 2014, before moving to the Lanxess Arena the following year, with that summer's run of the tournament attracting a sold-out crowd of 15,000. 
Gamescom holds the opportunity for a large-scale event, based on the sheer volume of attendees (373,000 across the entirety of this year's event).
The growth of esports necessitated bigger stages for these competitions, and in their place, gamescom now runs regional and showcase events on its expo floors. Multiple German national competitions including the ESL Meisterschaft and League of Legends Premier Tour finals, attract a decent amount of fanfare, while the highly niche Farming Simulator League rolled out its own live event. Although gamescom has larger arena space at its disposal, it seems unlikely that the crowd sizes will ever surpass the dozen or so rows of chairs.
"Germany has a lot of esports tournaments happening already," said Alexander Müller, managing director of Cologne-based SK Gaming. "I believe that's one of the reasons why someone like Riot Games, for example, or others, are hesitant to bring even more esports to Cologne. Why would you?"
Gamescom holds the opportunity for a large-scale event, based on the sheer volume of attendees (373,000 across the entirety of this year's event). Müller said that whether it was a "home game" for his League of Legends European Championship (LEC) team, or something based elsewhere in the city, there are many events concepts that could be developed.
Credit: The Esports Observer
In terms of the trade floor, SK Gaming is one of few team organizations to have had a presence, though this year it opted for a press and media offsite event, located at its player HQ. "It's tough," said Müller. "Running a booth at gamescom is a monster, and I'm not sure if it's the right fit for a team like SK, because it takes a lot of your resources."
There was a mix of pure-esports companies and engaged sponsors to be found on the floor of this year's gamescom. ESL brought gamers to its booths with campaigns built around its German partners, including McDonald's, Vodafone, and Techiniker Krankenkasse (TK). Ford announced its entry into the esports space, and set up a booth allowing gamers to try out with a full racing simulation set. Airbus has operated a League of Legends team since late 2017, all of whom were onsite to challenge, while the aerospace company could also promote itself as a potential employer.
Endemic gaming brands, meanwhile, set up similar stages to what might be seen at a DreamHack or Intel Extreme Masters expo floor. While gamers bemoan the four hour waiting times to play new games, it's considerably easier to try out a new piece of gaming hardware. Even if esports events are side attractions at gamescom, competitive gaming is embedded in the culture of the trade fair, with almost every major brand including Razer, Discord, and AOC International setting up amateur tournaments to build hype and excitement around their respective show floors.
Credit: The Esports Observer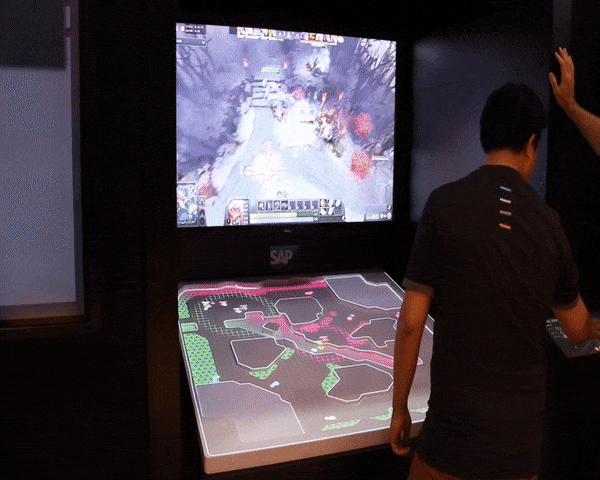 "Gamescom is the most important event we have in the year," said Juan Carlos Sánchez, product manager for AOC. "We have two scenarios here; professional people that work in the gaming environment, and customers. All together at one event, it's perfect."
While exhibition space encompasses the majority of gamescom, there is also a separate business area, in which all attending companies (1,153 of which were registered for 2019) can arrange one-to-one product showcases. On the day he spoke to The Esports Observer, Alias had 14 additional interviews booked, amounting to around seven hours of conversation.
"For me, esports, means professionals," said Alias, whose company runs two separate gaming brands; AOC Gaming for enthusiasts, and AGON for those earning money through their play. The company has active longterm industry partnerships with teams, including G2 Esports, and event companies, such as Red Bull. "Esports are influencing people to buy our monitors. Why? Because we promote esports tournaments, people see our brand, and we create this environment inside the company."
Credit: Esports Observer
On top of product showcases and demonstrations, gaming conventions are the prime time for announcements, and even in this regard, esports is a little light. On top of the aforementioned Ford announcement, Misfits Gaming's CEO Ben Spoont "reintroduced" his company's Alienware Center in Berlin at gamescom 2019. It's not unthinkable that one day the fair could be the podium to announce a new franchise team, or new tournament brand.
"I see esports everywhere when I walk around gamescom," said Mark Subotnick, Intel's director of business development for video games and esports. "It feels like every booth or hall has some aspect of esports in it. I feel esports is incredibly well represented. As a place to go and see a pinnacle event, definitely not."
Unlike many companies, Intel has also had experience running a large scale tournament at a gaming convention. "For us, IEM is so big, and when we put it in ChinaJoy [a gaming trade fair in Beijing, with similar attendance numbers to gamescom] it took over an entire hall. Which is awesome, but it also does more as its own thing."
Credit: The Esports Observer
While Intel itself did not have a booth at this year's gamescom, Subotnick feels good about the presence esports has at the event. "It just needs to be top of mind for people. I don't feel like we have to have a giant event. But you might disagree, and say 'hey I want that back, I liked coming here and having that be part of the show.'"
Source: https://esportsobserver.com/esports-gamescom-2019/
Tags: CSE, EA sports, egaming, esports, Fortnite, LOL, stocks, tsx, tsx-v