SPONSOR: Labrador Gold – Two successful gold explorers lead the way in the Labrador gold rush targeting the under-explored gold potential of the province. Exploration has already outlined district scale gold on two projects, including over a 40km strike length of the Florence Lake greenstone belt, one of two greenstone belts covered by the Hopedale Project. Click Here for More Info
It's that time of year again, tax selling in North America which leads into a seasonally strong period there after for mining stocks. Today i'll focus on strong potential set ups that are in a stage one base, looking to move higher. Stage analysis example for those new to that approach.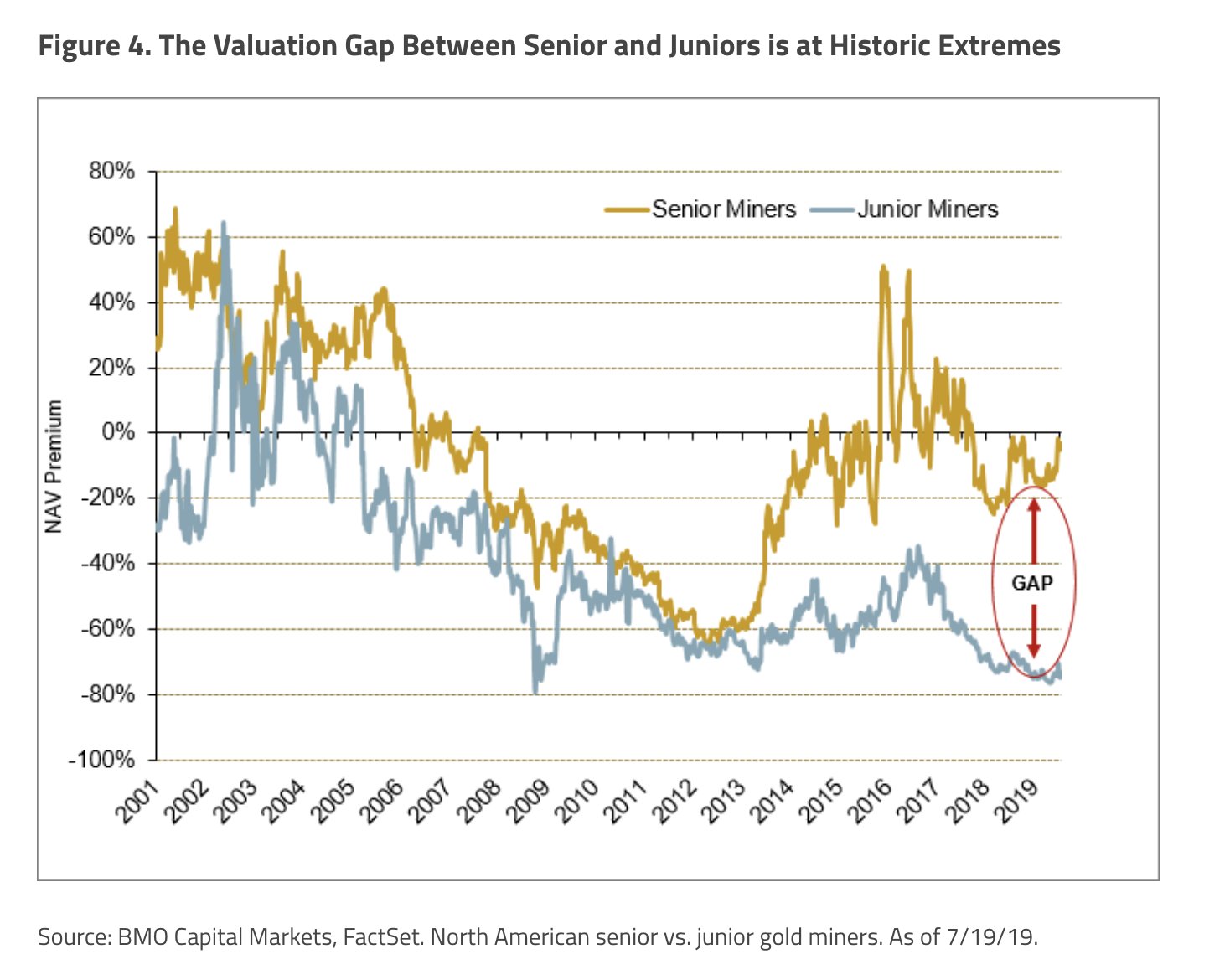 Historical data supports a strong move higher in Gold / Silver Miners in late Q4 into Q1.
Both $GDX mainly Gold miners and $SILJ both since 2016 bottoms, has lead into strong periods for the months ahead.
Looking at the big picture first in GDX. Built a base since the 2013 break down, which was retest in 2016 and mid 2018.
Current situation GDX in a large bull flag, building energy in a possible attempt to retest 31usd GDX, and if it can break, not much above resistance to 40usd GDX.
$SIL Silver Miners ETF Monthly showing similar though lagging price action. Miners have lead Silver (see below). If 32-33usd is taken out, a move into the 50usd+ level could come quick.
Gold and Silver
Gold broke out this year of a long term base, whilst Silver has failed to take out 18.75ish on a weekly close thus far in 2019. Gold moves has been strong, and after the peak at 1560usd, Gold miners has continued to act well, indicating the consolidation in Gold and a possibly upwards move is incoming. Watching to see if Gold will follow the miners and break a flag to retest 1560usd.
Silver 18.75 weekly close and we will be looking at 20+ Silver. 2020 targets would show 24-26usd very possible thereafter. The way stocks like $AG $PAAS have acted, could be a leading indicator.
Favourite leading set ups.
In no particular order, charts that are leading the sector, and have strong bases and look set to push higher. I may miss a few, but these set ups look solid. The longer the base, the higher in space as they say.
$CNL #TSX Has broken out on shorter time frames. Up near 180% in 2019. Looking at the big picture in a large multi year base.
$TGZ #TSX Looking like a nice power, ready to break higher.
$AUY #TSX after a near 100% rise in 2019, has been basing despite Gold pull backs. 3.80$ break out and could be ready to retest $6 2016 high.
$PRU #ASX #TSX Had an excellent 2019, rising from mid 30c to high of 95c AUD. 250k oz pa looking to double production to 500k+ in Africa. Retesting 2013 levels, a break above 95c and nothing but air to 1.50$.
$KNT #TSX retesting all time highs, has been the best performing producer, a killer move. Targets from brokers i have seen are up to 4.75$.
$SILV #TSX continues its uptrend and upward trajectory
$WDO #TSX Like Silver Crest, powers higher into new highs..
$SSRM #NYSE Solid numbers and growth. Base nearly complete and price action starts turning higher.
$EGO #TSX up 200% in 2019, building a nice flag here
$CDE #TSX Inverse H&S break out after earnings, pulling in for a possible retest, completion of the move is 8.8$usd or 50% + circa.
$AG #NYSE Another power base from First Majestic Silver .. If Silver runs to 24-26usd, perhaps this will outperform. The fact that Silver peaked at 19.5usd and back to 16.50ish, AG held it's own. Bullish price action.
$PAAS #NYSE up 100% YTD, another strong Silver runner, making 52 week highs and showing excellent relative strength. Cheap on a EPS basis.
$BTO #TSX B2Gold building a power base here too..
$WPM #NYSE Another strong Silver stock larger C+H in play.
Juniors to watch ..
As producers have been the main beneficiary of this rally, i do like mid cap development plays with solid management teams. The valuation gap is one of the largest on record.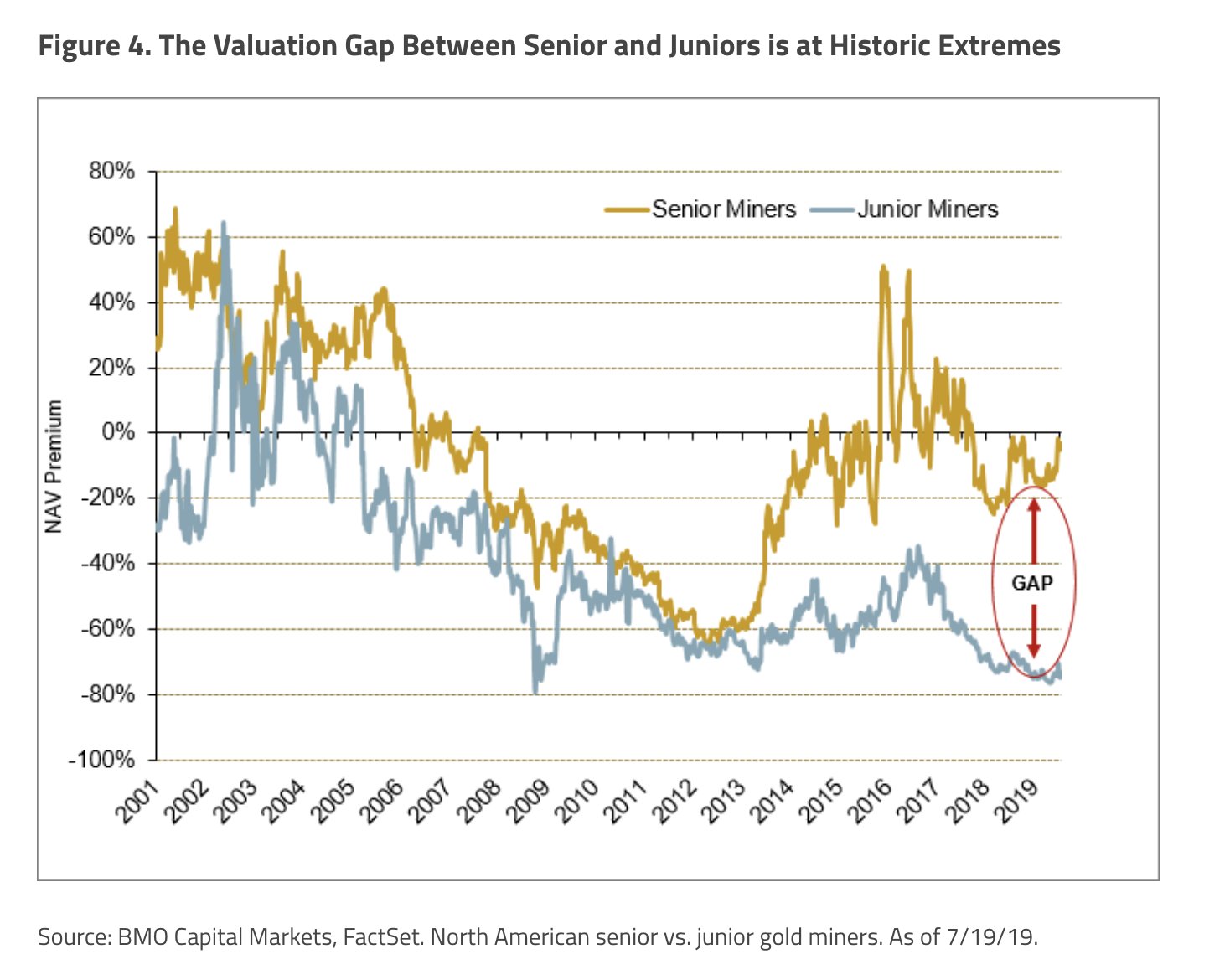 $GDX / $GDXJ ratio which has been in an uptrend for nearly a decade, favouring large producers, looks to be testing break trend line. A break down and we could see money moving to the development and exploration plays that thus far have lagged.
Stocks to add to your watchlist, and ones i like. Charts don't look pretty on some, but any rotation, and they will rally hard.
$Rio.v Rio2 5moz Chilean development play run by Legendary Alex Black. Potential double bottom.
$MZZ.ax Matador on the ASX is my favourite developer. Down the road from $MOZ in Canada, trading at near 1/10th of the valuation, will be producing before MOZ and a profile of 100kpa. Broker targets of 70c, still in a stage one base.
$PRB Probe run by ex Barrick, with ahigh grade 2moz in Canada.
$AXU #Silver High grade Silver developer
$MAG Silver Tier one Silver Miner, fully funded to development
$NHK Nighthawk Solid LT exploration play, good buying in low 30s
$MKO Mako up 110% YTD, fully funded to production as well as finding and expanding resource with very high grade hits.
$ADT Needs no introduction up 700% since IPO in 2018. One of my larger holdings, continues it's solid uptrend, much more left in the tank.
As you can see, the sector is strong and the set ups moving forward look favorable in this period especially using historical data. Judging on the price action, we continue to move higher into 2020. Have a good Christmas..
Tags: #Ashuanipi, #Discovery, #Drilling, #Greenstone, #Hopedale, #LAB, #Labrador, #LabradorGold, #Newfoundland, #Plethora