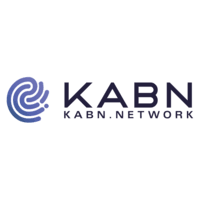 While investing in small cap companies comes with certain inherent risks, it's not high stakes, low chance gambling. In fact, practically every billion-dollar large cap company started off as a penny stock.

For the savvy retail investor or day trader, they know full well that emerging financial technology-based companies have, for the past two decades-plus, offered the highest returns with relatively low risk mitigation…even despite the dot com bubble crash of the early 2000's.

Today, a lot of smart money is funneling into forward-thinking companies that are fulfilling an immediate need to provide real world solutions to identity fraud and creating value through data validation.

Now, an innovative, Toronto-based company is making real things happen to protect consumers, companies, and capital.

KABN (pronounced 'Cabin') Systems NA (CSE:KABN, Forum) is already on the forefront of developing cutting-edge blockchain-supported and biometric customized identity solutions software. Bear in mind, this fintech company is not in conflict or cooperation with companies trying to use your data. They are the protectors of your data. Here's how they do it.

Their world-class suite of products and services work seamlessly across all channels and, most importantly, all demographic groups. Simply put, KABN's software apps and digital banking processes can work for everyone.

KABN works differently than other companies in this space. How? They offer a unique, comprehensive, and integrated suite of identity, financial, and loyalty services.

Here's the starting lineup. Liquid Avatar – powered by KABN ID – provides an 'Always On', biometrically-based, privacy-compliant, identity validation and verification platform which enables users to continuously and confidently prove themselves to the online community, exchanges, and other services. KABN ID is the backbone to its financial, loyalty, and engagement solutions including the KABN Prepaid Card program and KABN KASH – an innovative cash-back program where users are connected to online merchants for savings when they shop.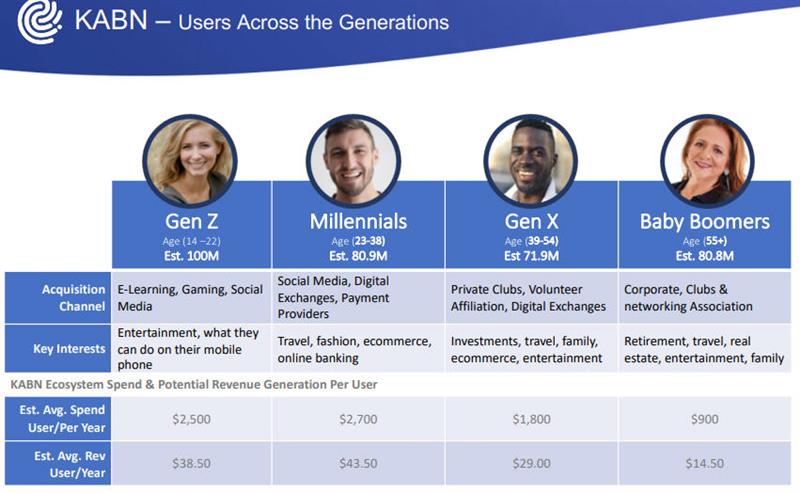 (Click image to enlarge. *Estimates are for the North American market ONLY.)


Why Digital Identity Matters

Identity is what makes people unique, but since the inception of the internet, digital identity has often been an afterthought. With today's acceleration of online commerce, education, healthcare, government, and other services tailored to the individual, digital identity and the data that surrounds it is online "gold". KABN says they believe that ownership of identity is a "basic human right and individuals should be the primary beneficiary of any use of their identity." This is what sets KABN apart.

In the conventional world, it's easy to prove who you are either by visual or traditional identity verification. It's a process that most people are accustomed to following.

In today's digital world, it's not that easy to prove "you are you". Identity verification is managed on a site-by-site basis and users are often required to deliver sensitive documents to unknown third parties, potentially reducing the value of their identity and increasingly exposing themselves to the risk of identity fraud."KABN believes that ownership of identity is a basic human right and individuals should be the primary beneficiary of any use of their identity."Digital Identity "Friction"

In the digital data world, it's all about the pennies, nickels, dimes, and quarters and the
ability to passively and actively generate revenues through everyday consumer activities. The Company says that, at present, the digital identity space has not satisfactorily addressed both the consumer and commercial stakeholder needs. Both are vital to consider, and these include:

Consumer Identity Needs…
to make ID verification reusable
to put me in control of my private data
to help me manage my public data
to reduce identity fraud
Commercial Identity Needs…
to reduce friction of screening consumer users
to simplify user verification
to streamline compliance resources
to manage user Personally Identifiable Information (PII) efficiently
KABN's Suite of Solutions: KABN ID, Liquid Avatar, the KABN Prepaid Visa card, and KABN KASH.

KABN ID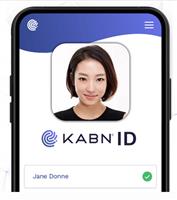 KABN ID is a proprietary, blockchain, and biometrically-based digital identity verification platform for both commercial clients and consumers users. KABN ID is a complete shift in thinking for identity validation as KABN ID provides a reusable, bank-grade identity verification for the individual user, at no cost to the consumer.

KABN ID is a global 24/7/365 verified online ID that is controlled by the client. The online identity service that is regulatory compliant, blockchain and biometrically-based, and is available at no cost to the consumer.

Users own and control the use of their verified identification, no personally identifiable information is ever transferred without authorization, and it provides organizations with an "Always On" KYC / AML (Know Your Customer / Anti Money Laundering) validation and verification process.

Liquid Avatar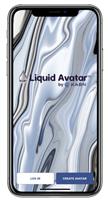 Data is indeed the new "gold". As users are presented value offerings and other services based on their public data profiles and system generated data, KABN, in turn, offers information services that are delivered directly to the user. User data is never sold or rented and remains part of the KABN Network.

A Liquid Avatar is a multi-layered, visual technology icon or token that contains information that can be linked, authenticated, and shared. When you share a Liquid Avatar, you automatically attach public data that will allow permission-based private data to be authenticated.

Liquid Avatars include a Visual or Presentation Layer – Public Data Layer, Private Data Layer, and a Security and Authentication Layer.

KABN Prepaid Visa Card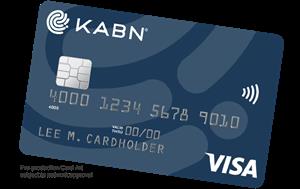 As part of KABN's commitment to providing its Customers with innovative, permission-based values, KABN is introducing its first financial services program, the KABN Prepaid Visa card and Mobile Banking Wallet program that supports both digital and traditional currencies.

KABN Prepaid Visa cardholders will be able to spend in-store, online, and access ATMs globally, wherever Visa is accepted.

KABN Card Features include:
a digital currency-linked prepaid Visa card
a multiple currency banking wallet
KABN KASH cashback program and other innovative services
and, global access – anywhere that Visa is accepted worldwide.

KABN KASH

KABN KASH is a robust engagement portal which includes a cash-back program. Here users are able shop at some of North America's top online merchants and receive cash back on their KABN Card. Customers will also receive updates on special offers and unique deals exclusive to KABN KASH.

KABN KASH Features include:
an exclusive customer portal
cashback rewards
special offers
exclusive opportunities & experiences
and instant savings alert messaging.
In the News: "KABN Systems to take over Torino Power Solutions"

Kabn Systems North America – a fintech company leveraging biometric ID verification – has signed an agreement with Torino Power Solutions to execute a reverse takeover (RT) as it prepares to launch a digital banking and financial services platform.

The platform will consist of continuous ID validation and verification processes. These include:
Liquid Avatar – powered by KABN ID – which is based on biometrics and blockchain
the KABN Prepaid Visa Card, which acts as a payment card and digital wallet for multi-currency transactions with digital or fiat currencies
and KABN KASH, a loyalty and customer engagement platform.
The technology is just not cool…it's comprehensive.

From the Executive Team

In a lively and informative interview with Stockhouse Editorial, KABN's Chief Executive Officer, Ben Kessler talked about a variety of timely Company happenings, including not only the experience but the innovative ideas they're bringing to the digital identity management space. Ben Kessler commented:

"Our focus is on our three core strengths – Reach, a Unique Business Approach and Team. With our senior management team, I think the great thing we all bring is some extremely strong skillsets and experiences and we all see things, in some ways, slightly different. And that's a good thing."

Kessler also highlighted the three unique attributes that he believes will make KABN successful:

"First, our reach. It covers 100 percent of the addressable online market which is approximately 300 million people in North America, so we don't have to go looking to provide a service to people who may not want it. Identity is becoming more important. Second, we have a unique business approach. We want to empower consumers to manage and control their identity and find ways to create value and opportunity from that identity. Our business is to empower constituents and commercial clients, as well. The third thing is, we've just got a simply outstanding team. We've all been doing this for a lot of years and in my career, I've never had a better crew of people that I've ever worked with. We've got a great team and advisors that are all uniquely focussed on succeeding."

In Closing

There aren't a lot of companies like KABN that offer a unique ground-floor investment opportunity in one of the most vital sectors of the New Economy – digital identity protection. The team says they're excited and completely engaged in doing what's best for investors, and it shows. Afterall, isn't that what it's all about? Bringing 'value and opportunity' to one of the most blue-sky digital global markets available today.
Source: https://stockhouse.com/news/newswire/2020/06/11/the-company-that-s-protecting-identity-as-your-basic-human-right
Tags: blockchain, canadian fintech, crypto, fintech